Innovation and the CFO
Understanding the value of technology is now part of the CFO's job description.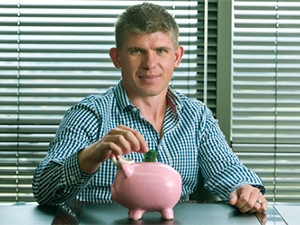 Today's biggest taxi service is actually a technology company. While its 'product' is providing customers with the means to get from point A to point B, what sets Uber apart is that the app-based transportation network has embraced digitisation to make journeys hassle-free.
For Saurabh Kumar, CEO at In2IT Technologies in South Africa, this is the perfect example of why spend on technology is strategic in every way. Mobile technologies and cloud platforms give Uber more reach, which means that the technology doesn't merely aid operations, but also acts as a marketing and sales tool. "With the arrival of digitisation, technology is no longer merely an enabler of business - it now provides a growth platform for business and, via advanced analytics, acts as the engine for expansion."
For CFOs, this demands a closer relationship with IT.
This relationship extends beyond viewing IT as a cost item that must deliver ROI, to thinking about IT as a strategic vehicle for the business, continues Kumar.
"CFOs are no longer a cost centre simply controlling the budget. They are enablers to the key technology decisions required to keep your business ahead of the competition and relevant in today's global market," says Chris van der Walt, CFO at Integr8 IT. For Van der Walt, the more a CFO knows about IT, the better equipped they are to utilise innovation and new technologies to cut costs. As an example, he notes how the fast pace of technological developments means that it can be more beneficial to approach technology spend from an opex rather than a capex perspective. By embracing this strategy, businesses can continuously upgrade infrastructure when new innovations come along without having to deal with the expense of maintaining their own assets. CFOs who are not aware of how technological changes happening in their industry affect their business won't be able to make the best decisions in situations like these, he goes on to say.
A happy marriage
Information technology has a direct impact on business competiveness, while also contributing to other areas of the business where cost savings can be achieved, adds Van der Walt. Thus, the CFO and CIO need to work closely together to measure the success criteria of technology implementations and accurately recognise the savings achieved through automation and technology improvements.
As a CFO, Paul Marten, of Microsoft SA, has to deal with how to allocate budgets and how to spend money to get the best return. The CIO is responsible for deciding what technology the business needs now and in the future, in order to enable the organisations to go forward. "In my experience, these two roles have to be aligned," he says. Marten describes technology as an enabler for organisations to achieve success, noting that a disconnect between the CFO and CIO will hamper growth. "The CFO must be interested in having conversations and not just see technology as a frivolous spend. They have to have an interest in technology to see the fruits of the investment and understand it."
Kumar agrees: "The CIO must provide the advice and insight needed for the CFO to understand the impact of technology on business, and on processes." He believes that greater CFO/CIO/C-suite collaboration is needed for everyone to successfully understand the changing role of technology in the business, as well as how the tools at hand can be used to optimise business performance and leverage new opportunities.
CFOs are also no longer a cost centre simply controlling the budget.

Chris van der Walt, Integr8 IT
CFOs have a company-wide obligation and their evolving role requires them to understand every element of the business, says Thinus Janse van Renburg, MD at INOVO. This change in responsibility requires the CFO to understand how different business units can benefit from technologies that make quicker decisions with improved accuracy. The key to a successful implementation is clearly defining success; what criteria will be used to evaluate possible platforms or solutions. "Spending more time and effort on this step will go a long way in making sure that the right solution is identified. It is absolutely essential that this is a collaborative approach adopted by both the CFO and CIO, as different aspects of this conversation need to be considered based on the expertise of both parties.
Jack of all trades
The role of the CFO has changed tremendously and continues to change, notes Marten. "I think the CFO's role is far more exciting now. We are at the forefront of strategic decisions. We're not just in the back office making budget cuts, which would traditionally be the perception of the finance person in an organisation." This role has transformed due to the market and new demands businesses are putting on the finance function. In addition to this, financial compliance and regulatory pressure mean that the CFO has greater liability and must ensure that reporting on all financial statements adheres to regulatory frameworks.
While tough economic times are diminishing enterprise budgets as a whole, information security is enjoying increased budget allocation, thanks to CFOs who see the returns inherent in mitigating risk, says Perry Hutton, regional VP for Fortinet Africa. But the CFO's involvement is limited. From his experience, CFOs in South Africa's largest enterprises typically don't get involved in IT spend beyond approving the CIO's budget. While CFOs are becoming more and more tech-savvy, particularly due to recent reports of costly security breaches, Hutton notes that one of the only times CFOs from large enterprises really get directly involved in information security budgets is when they are reacting to an incident.
"Digital turns traditional business thinking on its head. It impacts the whole C-suite," says Kumar. The CIO can no longer focuses primarily on information and technology, but now has to also be thinking about business processes. The challenge is no longer, `how can IT enable the business?', but `how can we embrace and embed change into our business processes?'.
Many South African companies are fast realising the need for CFO to be the technology champion.

Saurabh Kumar, In2IT Technologies
This changes how budgets are applied. "As the priorities of the C-suite change in terms of how they drive business (marketing platforms, client interaction, transactional platforms, security), so the budget allocation, distribution and ROI change. Many South African companies are fast realising the need for the CFO to be a technology champion," Kumar says.
Technological innovation empowers an organisation to access accurate intelligence as and when they need it. To make sound investments, CFOs need to understand this technology and the benefits it can offer, says Janse van Rensberg. "There exists real value in moving away from the traditional way in which IT spend was isolated to the needs of only IT departments and more towards IT spend that moves the business as a whole closer to having access to data in a manner that supports decision-making in real-time."
Old school/New school
For Fortinet's Perry Hutton, there are typically two schools of CFO: old school and new school. Old-school CFOs can usually be found in larger enterprises where IT spend is managed by an experienced CIO. New-school CFOs are typically younger and work in small to mid-sized enterprises. These CFOs, says Hutton, are well versed in all things technology. From a security perspective, today's CFO is generally well aware of the benefits of IT security, they understand that there are growing risks and that they have to invest in mitigating these risks.
Paul Marten, of Microsoft SA, agrees. Some CFOs are back-office types. They are transactional and operational in function. Then there are those in the front office who are networking, connecting with customers and constantly communicating with different business teams. Marten believes that business is shifting more towards the latter. This calls for the CFO to look forward rather than just reporting backwards. "All of this has come about because of new demands on the finance function. And technology is enabling these changes."
Trimming the fat
A smart CFO isn't just thinking about cutting costs, says Integr8 IT's Chris van der Walt. They are implementing strategies and embracing technologies that make it easier to cut costs. Their approach should focus on how to streamline different areas of the business by applying IT spend on automation and improving efficiencies, which, in turn, reduces costs. For example, connectivity costs reduce annually. Those savings must be obtained and reinvested in technology that improves efficiencies and boosts competiveness, he notes.
According to Microsoft's Paul Marten, deciding where to allocate budget is about assessing where you want to see benefits in the future. This requires collaboration and consultation with people like the CEO and CIO before making comprehensive plans based on these discussions.
INOVO's Thinus Janse van Renburg highlights the importance of spending IT budgets on implementations that offer tangible returns, solutions that work for your business. This means looking at ROI, rather than just choosing the cheapest option. Like Marten, Janse van Rensburg mentions how important it is for the CFO to listen to input from the CIO. "Proof of concept is not uncommon in today's business, therefore search for a service or solution provider that is willing to implement its solution based on its risk of not getting a commitment from you should all the success criteria set out at the start of the engagement not be met."
This article was first published in the May 2016 edition of ITWeb Brainstorm magazine. To read more, go to the Brainstorm website.