NetFlorist to add collective payment option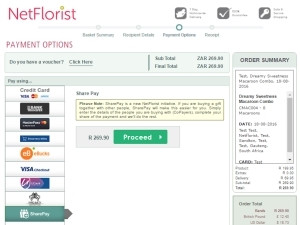 To eliminate the fuss of moving money between people who are buying a gift or flowers together, NetFlorist plans to introduce SharePay.
SharePay, which will be available in August, is a payment facility that allows a group of people to collectively buy a gift.
According to the online flower and gifting service, SharePay simplifies the process of group purchases by doing the collection of the money for a gift.
The service is the result of customer demand for a payment sharing option, says CEO and founder of the NetFlorist Group, Ryan Bacher.
"It is very common for our customers to club together and buy a gift for someone. Families do this all the time as do work colleagues and friends. The problem is the movement of monies between the groups who are buying the gift. We have just made this easier for our customers with the introduction of SharePay."
To use this payment option, a customer will need to enter the details of the people buying the gift and NetFlorist will automatically divide the cost of the gift by the amount of payers that have been chosen, explains Bacher.
The co-payers will receive an e-mail giving them the details of the gift and the amount they need to pay. A link will send them through to checkout, where they will pay their share. As a co-payer settles their share, every participant will receive a confirmation e-mail of their payment. Once everyone has paid their portion, the order will automatically be live and sent through to the NetFlorist hub for preparation.
SharePay solves a current pain-point for people looking to buy a gift collectively, he says. "The more 'pain-points' we can solve for our customers, the more we hope to be of value to them."
While the initial start of the group payment option will be via credit card, Bacher says the company will add options such as EFT, eBucks, Discovery Miles, Ucount and PayPal.
SharePay will be available to all customers, locally and internationally, he notes.