Vodacom unveils brand new M-Pesa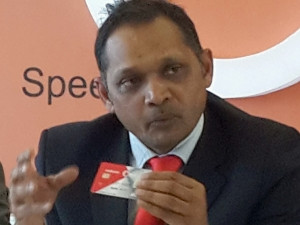 Vodacom has released details of its new revamped mobile money offering M-Pesa, which the company has clung to despite it failing to attract South African cellphone users over the past four years.
The new product, says Vodacom managing executive of mobile commerce Herman Singh, is "a brand new platform, built from scratch". For the revamped M-Pesa, Vodacom has abandoned its partnership with Nedbank and signed an agreement with Bidvest.
The company has been working on a new model, reworking its M-Pesa IT platform to better integrate into banks' retail infrastructure, for the past 18 months. Vodacom CEO Shameel Joosub conceded last year May that the M-Pesa product had not been successful.
The revised M-Pesa service, which Joosub says has functionality at its heart, includes a number of entirely new elements, such as a chip and PIN protected Visa card, and a voucher system to upload cash. Vodacom has also optimised some of its mobile money product's traditional services, like person to person transfers.
Singh says the revamped M-Pesa is primarily a distribution play. It launches with more than 8 000 agents at both informal outlets and at major retail partners - a number that is about 10 times more than the product originally launched with."The intention is to grow, particularly in the informal sector, to around 30 000 points of presence by the end of the year."
After tackling distribution, the M-Pesa team addressed the issue of ease of registration.
Vodacom says additional functionality is planned for the near future. The company is targeting all income groups with the second wave of M-Pesa and aims to sign up 10 million users over the next five years.
The M-Pesa Visa card gives users access to about 27 000 ATMs and over 240 000 merchant outlets in SA. The voucher system allows users to convert cash to M-Pesa at all Vodacom shops, selected spaza shops, and at selected retailers.
African origin
Since being introduced to the South African mobile market in 2010, M-Pesa has struggled to gain traction. This is in contrast to its Tanzanian and Kenyan operations, which have seen the facility flourish. In 2012, SA had a marginal 850 000 users signed up to the service - just 2.9% of the customer base at the time - while a third of Tanzanian subscribers (3.1 million) were at the time active users of the service.
Today, says Vodacom, there are over 18 million M-Pesa users across the 13 countries where the product is available, about a million of which are in SA. More than half of the customer base of Vodacom Tanzania is registered for M-Pesa, and this group accounts for more than US$1 billion in activity per month. In Kenya, over 70% of the adult population uses M-Pesa.
Singh says the local M-Pesa journey has taught the operator "SA is not Kenya". Previously, he says, the company did a "cut and paste" job when introducing M-Pesa - which was first launched in Kenya in 2007 - to the local market.
"We assumed South African consumers would respond to the service in the same way they did in other countries [where M-Pesa is popular]."
He notes SA is a unique, hybrid market. "Almost nine million people use Internet banking in SA, but then the same number of people is unbanked. This time around, we took a long, hard look at the product and decided we needed to completely redesign it."
Joosub's predecessor, Pieter Uys, said during his tenure that the reason the product had not taken off in SA was largely because of the inherent disparities that exist in the respective markets. "It is a first world versus third world scenario. For one thing, SA's banking regulations are far stricter than those in other African countries."
Addressing media at the relaunch of M-Pesa today, Joosub said the mobile money product "has the potential to transform how South Africans manage money". He says Vodacom looks forward to the day that SA is "held up as yet another example of where M-Pesa has changed the face of banking, unlocking the power of mobile technology to make people's lives easier".
* Vodacom customers can register for M-Pesa by dialling *111#.