11th Kyocera Document Solutions South Africa Service Awards shows high standard for technicians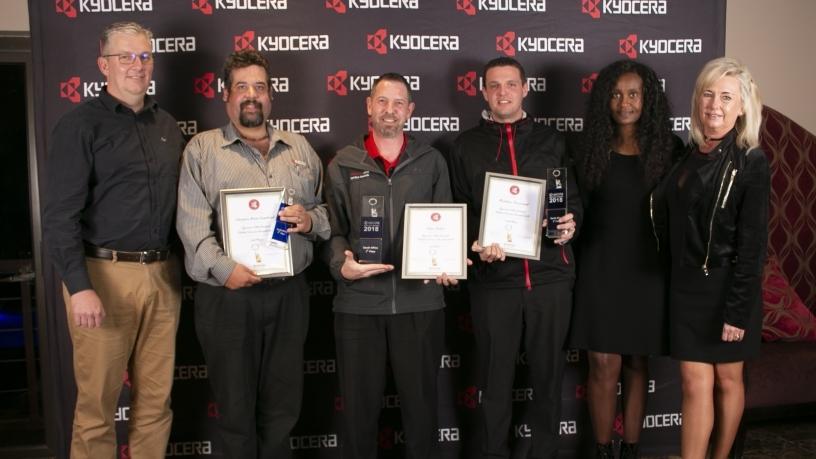 KYOCERA Document Solutions South Africa announced the winners of its 11th local Service Awards, honouring its top engineers at an exclusive ceremony held in Johannesburg.
KYOCERA Document Solutions South Africa prestigious awards recognise the dedication, skills, knowledge and outstanding technical abilities of its certified engineers, who competently deliver technical solutions to resolve its customers' technical queries on a daily basis.
"Our customers are looking to do business with service partners who are able to support them with their printing solutions, streamlining their efficiencies and driving down costs with new technologies and input," says Paul Wendlandt, KYOCERA Document Solutions South Africa Customer Services Support Manager.
"Every business, regardless of its size, needs effective support, services and systems to gain productivity and stay competitive," he adds. "They do not want to purchase a product and never see the partner again. They want top-of-the-line products and the backup, support, skills and expertise that can only come from working with skilled and certified engineers."
The Service Awards attracts 2 500 service engineers worldwide who compete to be the best in their country. The SA finalists, who get to compete at the Midrand head office, are determined via the participant's performance in an online exam, which certified KYOCERA service engineers from across the country complete. This year, 140 service engineers demonstrated their skills and knowledge of our hardware and software products. The top service technicians travel to Midrand and undergo further theoretical and practical exams ahead of the awards ceremony.
The 2018 South African leg of the Global Service Awards saw the following winners:
Top service technicians:
1st place
Chris Pelser
Page Automation
2nd place
Matthew Townsend
NRG Office Sol
3rd place
Jacques Koen Lombard
Ronmar Office Equipment
In no particular order:
Christiaan Smit
North Holdings
Christopher Wait
Omni Technologies
Graham Meyer
Nasatech
Juandre Broodryk
Universal Office Automative
Marcelle van Vuuren
Kokstad Copiers
Renier Strydom
Copystar
Sam Padayachee
Copy Link
Sanjay Sungeeth
Pansolutions Holdings
Top 5 Dealers:
1st place
Nasatech
In no particular order:
North Holdings
NRG Office Sol
Omni Technologies
Pansolutions Holdings
Universal Office Automative
"These awards are a true reflection of Kyocera's commitment to building a network of certified engineers and providing them with the products and solutions they need to deliver pre- and post-sales support for their clients," says Wendlandt.
The top achiever, Chris Pelser from Page Automation, will go on to compete against other regional winners in the EMEA Annual Service Awards that's held at KYOCERA's European HQ later this year. The top three achievers of the European Service Awards earn themselves the prestigious and sought after all-expenses-paid tour of the Japanese headquarters and visits to factories in the far east.
These awards are important as they not only reward the efforts of KYOCERA's technicians, but they give KYOCERA a chance to prove how rigorously trained the company's technicians are, which is a competitive advantage for KYOCERA.
"Well done to all those who participated in the competition. The results were of a very high standard this year. We wish our winning service technicians the best in the international competition, and are hopeful that we will bring this prestigious accolade back to South Africa," concludes Wendlandt.