Google search ups its game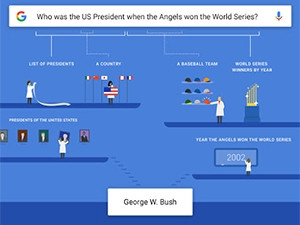 The Google app now understands complex search queries, written in natural language, to a higher degree.
"Language feels so natural to us that we can often take it for granted ?we forget the years it takes us to master it as children. It's much, much harder for computers," Google product manager Satyajeet Salgar said in a blog post.
In 2012, Google released the Knowledge Graph, which enhanced its search engine's results with semantic search information gathered from a wide variety of sources.
The latest update will see the search engine attempt to understand the meaning behind a query.
"We can now break down a query to understand the semantics of each piece so we can get at the intent behind the entire question. That lets us traverse the Knowledge Graph much more reliably to find the right facts and compose a useful answer," Salgar explains.
Examples of some questions Google is able to give answers too:
Who are the tallest Liverpool players?
What was the population of Malawi in 1965?
What songs did Coldplay record in 2014?
What are some of Seth Gabel's father-in-law's movies?
Please tell me who was the US president when the Angels won the World Series?
Salgar says the team is still testing the functionalities, so there may sometimes be mistakes. For example: "Ask Google 'Who was Dakota Johnson's mom in the movie?', and we'll respond with the movies of Dakota Johnson's real-life mother Melanie Griffith, not the actor Jennifer Ehle who played Anastasia's mother Carla in the 50 Shades of Grey movie."