Preparing for a hybrid cloud future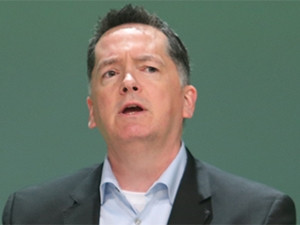 The cloud is being adopted at a rate much faster than anything ever seen, said Paul Mattes, VP of the global cloud group at Veeam, at the VeeamOn conference.
The cloud is now, which is why Veeam has a defined vision to deliver availability for a multi-cloud future and environment, he said. "Veeam is now front and centre in the cloud business."
According to Mattes, IDC predicts that by 2019, 46% of all enterprise IT spend will be on the cloud.
He explained: "We hear a lot about the cloud being the next wave of technology; I think that wave is washing over us every single day. 70% of CIOs surveyed report having a cloud first strategy; they don't know how to exactly execute that but it is a cloud first strategy.
"I think that is because of the business opportunity and agility that cloud technology affords, there is a business opportunity to do it. Veeam has embraced this completely and will continue to deliver solutions that are cloud-focused."
Multiple support
Veeam, which aims to provide availability for any service across any infrastructure, unveiled offerings to deliver a digital life experience in a multi-cloud environment.
As part of the new product offerings, Veeam has strengthened its relationship with Microsoft.
The new Veeam solutions include disaster recovery in Microsoft Azure, backup for Microsoft Office 365 and private network (PN) for Microsoft Azure.
Backup for Microsoft Office 365 provides support for two of the most requested enhancements: SharePoint Online and OneDrive for Business, according to the company.
"Being able to have backup for those two critical assets for customers inside of Microsoft Office 365 is huge," said Mattes.
Veeam described PN for Microsoft Azure as a free tool that will allow automated set up of a network into Azure or any point-to-point network to allow on-demand disaster recovery.
"Our close collaboration with Microsoft is enabling us to take full advantage of Microsoft Azure to realise disaster recovery in the cloud, direct access to Azure Blob storage and many other benefits that make hybrid cloud availability both robust and easy to manage," concluded Mattes.