Takealot confident of CompCom approval of Naspers deal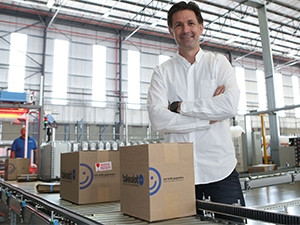 Online retailer Takealot.com does not expect any approval issues from the South African Competition Commission for a planned R960 million investment from Naspers.
Takealot CEO Kim Reid told ITWeb in an interview that he is "fairly confident" the deal will go through and it's just a matter of the process running its course.
"We can't, of course, pre-empt the commission's thinking, but we do not believe there will be any substantive competition issue. Takealot is today still a very small retailer in SA, competing against large retailers like Massmart, Edcon, Clicks, etc. We compete for the same consumer and sell many of the same products ? this competitive fact is well-proven worldwide. In addition, this deal is positive for our employees and future employment prospects as the additional funding gives them greater security."
The group filed a large merger notification with the commission last month, when it announced Naspers would invest a further R960 million in the retailer and become a majority shareholder. Reid hopes the deal will close sometime in June.
Until now, Naspers and Tiger Global have owned around 42% each of the business on a fully diluted basis, but the deal will push Naspers' ownership to around 54% and Tiger Global's down to 36%, with the balance held by management and staff.
Reid says Naspers began investing in the business in 2014 at the time of the Takealot-Kalahari merger. The merger between Takealot and Kalahari.com was announced in October 2014 and greenlit by the Competition Commission in January 2015, after which the Kalahari brand was dropped in favour of the Takealot brand. Reid says since then, Takealot has been growing strongly but the company knew it would need to do another capital raise at some point.
"We wanted to raise enough to get to a cash flow breakeven point ? which has always been an ambition of ours."
Reid says the deal's structure is quite simple as Naspers is buying A-shares, which are non-voting shares, so as to keep the management structure unchanged.
"We are quite determined to remain independent and run the business as we have, without too much shareholder interference. We have never really had shareholder interference before and Naspers understood that and came in with the capital raised now. So they buy A-shares, they have the ability to convert those A-shares if they so choose and the business continues as it did before," he explains.
No acquisitions planned
Takealot has seen strong growth since its merger with Kalahari and now owns a stable of businesses besides Takealot.com ? including fashion retailer Superbalist.com, Mr D Food (SA's largest restaurant food delivery service) and Mr D Courier. Reid says there are no more purchases planned in the short-term.
"Right now, I can honestly say we are not thinking about acquiring anything, we are trying to build. We have got quite a big year ahead of us because we are looking at quite strong growth rates this year again; and we've got to make sure that we are doing the right things. So the focus right now is largely internal to get efficiencies in place and get new systems in place in the warehouses, etc."
Reid says the company's revenue was R2.3 billion for the year ended 28 February and he expects this to grow by over 50% in the next year. Last year, the company's growth rates were around 35% but had been at around 200% year-on-year for the previous two years. In terms of traffic on the site, he says user numbers are growing at about 30% to 35% on a yearly basis.
The company has around 1 200 staff, around half of which work in its two 30 000 square meter warehouses in Cape Town and Johannesburg. The staff number excludes Mr D's over 1 000 drivers who work for Mr D franchises and not the group directly.
He says the group is focusing on SA at the moment and has no plans to expand to other African countries in the short-term.
"We have got a big job still to do here in SA, with just 1% to 1.2% of total retail penetration [being online] there is still a lot of headroom here. So where do we spend our cash? Do we spend it in a market that is still very fertile? Or do we start spreading our bets and start spending money in territories which will be much higher risk and will require a lot of money to actually execute on?
"Our bet is let's stay in SA for the next couple of years and once we actually execute on what we want to execute on here, then we can start moving into African territories. There is opportunity to move, no doubt, but I'm not sure it's now. I think there is still a lot of time in Africa."
Growth story
In SA, the e-commerce space only makes up between 1% and 2% of total retail in the country; however, Reid says there remains huge potential for growth in SA as e-commerce continues its natural evolution.
"Even Amazon didn't happen overnight; the overnight success story is in China. China is sitting at about 17% of retail penetration being online today, and that has been a very fast evolution. We will follow a slower trajectory, but for our business if we keep growing at between 50% and 70% year-on-year, the compounding effect is significant."
He believes his business can keep growth numbers north of 50% for the next five years because the gap in online penetration as a percentage of total retail is so large in SA compared to other markets that growth is almost inevitable.
"If we maintain and grow our market share in that space then we have got a really big opportunity, but I think the scary thing for us is that execution is in our hands. We are well funded, we've got good staff, we've got a great opportunity and the success is going to depend on our execution and whether we get it right," Reid concludes.