Axis delivers security cameras to rhino sanctuary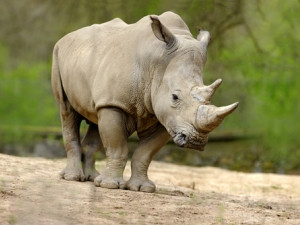 Network security camera-maker Axis Communications yesterday delivered three sponsored security cameras to a rhino sanctuary in Limpopo, run by the Rhino Pride Foundation.
The Axis Q1931-E Thermal Network Cameras, which offer both video and thermal imaging monitoring, are designed for rugged outdoor use: they can withstand harsh weather conditions and have shock detection features to send an alarm to security personnel in the event of attempted tampering or destruction.
The cameras, which integrate with analytics software to differentiate between human and animal movement, also offer a vertical field of view ideal for monitoring long fences or perimeters.
The rhino sanctuary is also protected by Pit-track, a non-profit conservation unit specialising in rhino protection, combating poaching, and investigations. Pit-track uses trained dogs - whose sense of smell and hearing is exponentially greater than that of humans - to help them detect, track, and catch poachers.
"We are dealing with a highly sophisticated, experienced enemy that has unlimited resources... advanced military equipment, information and funding at its disposal," said Carl Thornton, team leader at Pit-track, in December 2015. "We are finding syndicates recruiting ex-military personnel to destroy our natural heritage."
Rhinos are but one of thousands of species threatened by extinction globally.
The World Wildlife Fund notes that while the number of species becoming extinct each year is difficult to determine due to the staggering number of undiscovered species, at least 200 and up to 100 000 species are becoming extinct each year. It says the current global extinction rate is 1 000-10 000 times higher than the global "background rate" of extinction that would occur in the absence of humans.