Downtime, security risks prevalent in private cloud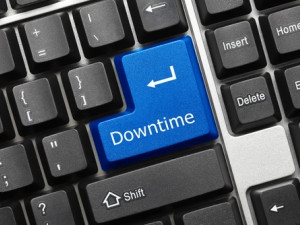 The growing level of complexity, increasing interdependence among infrastructure components, and escalating pace of change, has proven that keeping cloud infrastructure free of risky misconfiguration has become a challenge that most organisations fail to meet.
This is according to Continuity Software's recent research: 2016 Private Cloud Resiliency Benchmarks, based on data gathered from over 100 enterprise environments over the past year, the study found that downtime and security risks were present in each cloud environment tested.
It says companies running mission-critical systems in the cloud are less successful in meeting their service availability goals compared to organisations that don't store any of their mission-critical data in the cloud.
The study found that security and performance risks were found in 99% and 97% of the private cloud environments surveyed respectively, with 82% of the companies facing data loss risks.
It also notes downtime is the top risk with 43% of all risks detected related to downtime, followed by best practices (30%), performance (14%) and data loss (7%).
Other top risks identified across these environments include, virtual networking configuration errors leading to virtual machine isolation and downtime and incorrect storage settings leading to corrupt backups and data store loss, adds the study.
"Sooner or later, every system fails," said Gil Hecht, CEO of Continuity Software. "And when a popular service goes down, it doesn't take long for customers to notice."
Hecht says each year enterprises continue to encounter downtime, which currently costs an estimated $740 000 (R10.5 million) per outage according to Ponemon's most recent report.
Veeam says the average per hour cost of downtime for a mission-critical application is just under $80 000. The average per hour cost of data loss resulting from downtime for a mission-critical application is just under $90 000. When it comes to non-mission-critical applications, the average cost per hour is over $50 000 in both cases, it adds.
According to Continuity Software, frequent testing of cloud availability is essential. There is a positive correlation between the frequency of testing cloud availability and meeting service availability goals, it adds.
"The good news is that most risks lurking in the cloud infrastructure can be identified and corrected before they turn into a service disruption.
"This requires a specialised set of processes and tools, but above all a mindset and strategy focused on early detection and the remediation of risks."
Ensuring resiliency in a mission-critical cloud environment requires a different playbook, says Continuity Software.
It calls for a new set of capabilities that provide IT teams with an early-warning system to proactively identify and eliminate downtime and data loss risks before they impact the business, it adds.