A Yahoo, Facebook search alliance?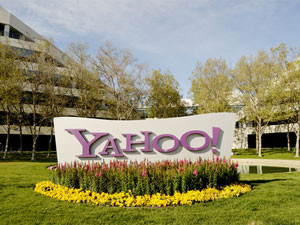 While talks of Facebook taking a step into the search space have been around for years, new rumours have emerged of a potential partnership between Yahoo and the social network in the search space.
According to a Telegraph report which cites unnamed sources, Yahoo CEO Marissa Mayer has held discussions with Facebook's COO, Sheryl Sandberg, about "how the two companies can work more closely together".
The report doesn't offer any further details about the content of the discussions, but says "board members expect the talks to lead to much more substantial collaboration based around Web-based search". It also claims that an alliance between Yahoo and Facebook "stands to reorder the hierarchy of the world's biggest technology companies".
However, AllThingsD writer Kara Swisher has already rubbished the report, saying her own sources "scoffed" at such a deal, adding that Yahoo and Facebook working to build a search engine together is "not likely".
Swisher also says: "I am not even sure what such a thing means, since it would now be nearly impossible to execute, given Yahoo has outsourced its core search technology long ago to Microsoft and has been largely focused on improving search experience since then."
The rumours of a new search engine have been buoyed by Facebook CEO Mark Zuckerberg's public statements, made earlier this year, about the social network entering the search space.
Zuckerberg was interviewed by Michael Arrington at the TechCrunch Disrupt conference, in San Francisco, in September. At the time, he said search is an interesting space for Facebook, with over a billion queries being served a day "and we're basically not even trying".
"I think that there's a big opportunity there at some point and we just need to go do that. I think that search engines are really evolving to give you a set of answers, it's not just about here I'm typing something show me some relevant stuff. It's 'I have a specific question, answer that question for me'. And if you think about it from that perspective, Facebook is pretty uniquely positioned to answer a lot of the questions that people have... At some point we'll do it," said Zuckerberg.
It has also been noted that relations between Facebook and Yahoo are currently better than they've been in a long time, with the settling of numerous long-standing lawsuits over patents. The companies have also been collaborating on a number of projects, including the sharing of Yahoo News on the social network.
Laughable
Search Engine Land contributor Danny Sullivan raises the question: "Why would an alliance with Yahoo do something for Facebook that Facebook's existing partnership with Bing doesn't already do?
"The answer is there's nothing Yahoo brings to the table that Facebook doesn't already get with Bing. Bing has far more search talent than Yahoo. It has far better search technology than Yahoo. At this point, Bing even has more useful Web search experience than Yahoo, given that Yahoo has outsourced Web search to Bing since 2010."
Sullivan also notes that when the Facebook/Bing partnership was announced in 2010, Zuckerberg said: "I couldn't think of anyone better to be working with to build the next generation of search."
Referring to the claims that a Facebook/Yahoo partnership could pose a real threat to Google's dominance of the search space, Sullivan says: "It's hard not to laugh. Really. What next? AOL will prove crucial to help revive Microsoft's fortunes in the mobile space?"
Yahoo and Facebook are yet to officially comment on the rumours.