Standard Bank promotes women in ICT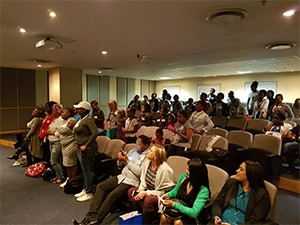 Standard Bank has introduced Girl Geek, an initiative aimed at creating a pipeline of women in the information and communication technology (ICT) sector and in working towards transforming the sector.
According to the bank, the main drive behind this project is to inspire, educate and equip girls from disadvantaged backgrounds with computing skills to pursue 21st century opportunities.
In SA, where women comprise 55% of the country's entire workforce, only 20% of ICT professionals are women, and when that percentage is broken down, it reveals that significantly few women of colour are represented, it adds.
In partnership with African Teen Geeks, a non-profit computer science training centre, Standard Bank says it will sponsor 100 young girls aged nine to 18 years, to participate in a number of programmes and events, including Computer Science Week, Hour of Code, Girl Geeks Women's Month, Festival of Code, Graduation from Java Coding, and ongoing mentorship and engagement with Standard Bank IT senior management/executive mentors.
Brenda Niehaus, Standard Bank Group CIO, saysthe bank's vision is to extend the Girl Geek initiative over time, giving more young girls throughout the country the opportunity to benefit from the programme.
"We have selected 100 girls to sponsor for the first year. Some of the girls were selected during our Computer Science Week in June, and more will be chosen at the Hour of Code event this week, where children from disadvantaged communities will get the opportunity to learn coding at Unisa labs throughout the country.
"From the 100 girls taking part, 30 to 35 will be selected to be mentored and partnered with over a three-year period. Upon completion of the programme, the girls will participate in the Festival of Code where they will have access to valuable entrepreneurship skills and knowledge that will hopefully encourage them to create their own start-ups," explains Niehaus.
Niehaus believes the Girl Geek initiative not only inspires girls to pursue fulfilling careers in IT, but it also encourages and nurtures its budding IT professionals during every step of their development.
"Standard Bank and Africa Teen Geeks have created a solid programme that ensures we can support these kids throughout their entire journey," she concludes.