Tech still trumps road safety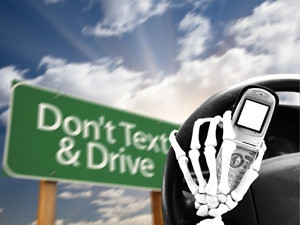 SA's mobile operators have said they will offer support around initiatives undertaken to stamp out the dangerous behaviour of using cellphones while driving - a campaign for which Discovery Insure has already set the wheels in motion.
With more mobile phones than there are people in the country, SA has one of the highest mobile penetration rates in the world. It also has one of the highest road accident rates in the world, a reality Discovery Insure puts down to poor driver behaviour.
This comes just over two months after Discovery Insure launched its Discovery Insure Driving Challenge (DIDC) app, which was specifically designed to help South Africans become more competent and aware behind the wheel. The DIDC app detects behaviour, such as how sharply the driver breaks, the speeds the driver does and how often he/she uses their phone while their car is in motion.
Discovery Insure CEO Anton Ossip says, backed by data collected from users of the app, the company has set out to engage stakeholders countrywide to improve driver behaviour. "Research indicates that up to 90% of road accidents in South Africa are due to careless behaviour, so the solution is self-evident - we need to commit ourselves to becoming a nation of good drivers."
Illustrating the dangers of texting or making a call without a hands-free kit while driving, data from the DIDC app indicates that a single instance of mobile phone usage represents an average of 52 seconds of distracted driving. At a reasonable speed of 60km/h, this is equivalent to driving "blind" for one kilometre, and makes the driver four times more likely to have an accident during that trip.
Alcohol, speeding and distracted driving are the three biggest causes of road accidents in South Africa, with the use of cellphones while driving being one of the top causes of driver distraction, notes Ossip.
Industry observers say not only have cellphones become considerably more widespread, but their use has become more frequent. World Wide Worx MD Arthur Goldstuck says SA has become a "nation of screen-checkers", while Time magazine recently reported that cellphone users check their phones 110 times a day. At the top end of the scale, people check up to 900 times a day.
Operator initiative
Vodacom, SA's largest mobile operator by customer number, says the use of cellphones while driving is becoming one of the leading causes of road accidents worldwide.
Earlier this year, Vodacom launched a "do not text and drive" awareness campaign, dubbed "w8_2send" (wait to send). While this was launched internally to staff on 20 June, the company plans to introduce it externally to customers and media later this year. The idea is to encourage people to take the pledge to w8_2send and highlight the dangers related to texting and driving.
Maya Makanjee, Vodacom's chief officer of corporate affairs, says a key component of the company's staff and supplier "Absolute Rules" on safety state: "Never use a handheld phone whilst driving and only make calls by pulling over or using hands-free devices, when it is safe to do so."
Makanjee says internal and supplier programmes are run on an ongoing basis to highlight the importance of adhering to this. All suppliers and staff performing services for Vodacom need to comply with these rules.
MTN notes road carnage costs the local economy billions of rands annually. "MTN believes that instilling responsible use of technology is the responsibility of each and every one of us. MTN believes that this issue needs to be driven by multi-stakeholders."
Cell C condemns the use of a cellphone while driving and says it will support any initiative aimed at discouraging irresponsible behaviour and protecting its customers and the public at large.
The Department of Transport's rules of the road prohibit the use of communication devices while driving, whether held in the hand or being used while affixed to the vehicle. While it is legal for motorists to use hands-free kits to operate cellphones, using handheld phones behind the wheel can result in a fine of R500, or up to three years in jail (if an accident is caused).