Network problems on the rise?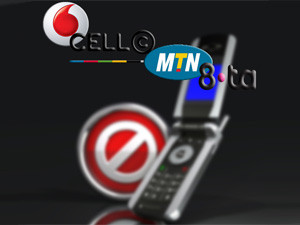 Dropped calls, poor to no cellphone reception, and EDGE failover - these are issues cellphone users say are rife this year, but the picture painted by mobile operators is a different one.
According to the Independent Communications Authority of SA (ICASA), it has received numerous consumer complaints about the state of SA's cellphone networks over the past few months.
In an internal survey carried out by ITWeb last week, over 95% of respondents said the state of their cellular network had drastically declined recently, particularly over the past three months.
Most respondents reported frequent dropped calls, low to no signal at times, and minimal 3G connectivity:
"I don't recall when last I completed a call without it dropping. There is constant loss of network, worse this year."
"I have definitely noticed deterioration of quality of service. Often you have to call a person two or three times during a single conversation."
And, while mobile operators are hesitant to admit to a pervasive decline in network quality, ICASA spokesperson Paseka Maleka says the authority has already approached operators on the issue, as well as launching an investigation.
"ICASA is well aware of the current challenge of poor network quality."
Maleka says the authority is in the process of carrying out an internal investigation on network issues and that a quality of service report is due to be published at the end of March.
Operators' side
SA's largest mobile operator by subscriber numbers, Vodacom, says there is no general increase in network issues the operator is aware of.
Richard Boorman, executive head of corporate communications at Vodacom, says the network is a "hugely-complicated beast" with many individual components. "Radio technology is itself subject to impact from the external environment."
He says the operator aspires to a flawless service, but it is inevitable that there will be localised issues from time to time - often as a result of an external event like a roads contractor accidentally cutting through transmission lines.
"One of the biggest challenges we face is getting permission for new sites, which are needed to cater for the mobile data boom currently under way."
Kanagaratnam Lambotharan, CTO of MTN - SA's second largest mobile operator - says the company monitors and optimises its network consistently to ensure network quality is not compromised.
Lambotharan notes that, in 2011, MTN rolled out the largest network infrastructure development project in the history of the company. "The project has increased MTN's second generation (2G) network coverage to 98.6% of the country's population, while our EDGE and third generation sites are close to 65% of SA's population, enabling better call and data connectivity."
He concedes, however, that networks are under pressure. "With increasing traffic (especially data) comes increasing demand for spectrum." The most pressure, says Lambotharan, is on less spectrally efficient technologies like GSM, and migration to more efficient UMTS/long-term evolution (LTE) is hampered by the affordability of capable mobile handsets to the bulk of the South African population."
MTN also cites densification of sites as being another problem in terms of challenges operators face in obtaining approvals for sites in several cities.
Cell C says it continuously monitors its network and has stringent forecasting processes in place to ensure quality remains high. Apart from a glitch with the operator's IT platform earlier this month - which affected data services - the company does not note any unusual network problems.
"Much like all operators, there are areas where there is localised congestion during peak times, and they are being addressed through ongoing upgrade projects."
Cell C echoes its counterparts' statements that one of the largest challenges operators face is getting speedy approval for the erection of base-stations.
Telkom's mobile arm, 8ta, did not respond to queries relating to network problems, but says it continues to deploy a mobile network while upgrading core elements to support key business initiatives. "We have a process in place to manage current and new technologies being deployed."
LTE link
One of the likely factors contributing to recent network problems, say analysts, is the deployment of LTE amid the lack of spectrum allocation.
Both Vodacom and MTN are running their LTE services, launched commercially at the end of last year, by re-farming 1 800MHz spectrum. Vodacom is using two 5MHz allocations, while MTN is using two 10MHz allocations, which it says is a stopgap measure until the Department of Communications (DOC) and ICASA have come to a decision and taken action on the allocation of the apposite spectrum bands.
Cell C and 8ta have an advantage over their larger competitors, with alternate spectrum available to them for LTE, meaning they do not have to re-farm frequency bands used for other services.
MD of World Wide Worx Arthur Goldstuck says the re-farming of spectrum for LTE must be having an impact on network performance.
"If the networks were already fully stretched, and the number of connections still growing, and then some network resources are pulled from voice to re-farm to LTE, how can it not have an impact?"
Goldstuck says the blame can be placed at the feet of ICASA, which is still dithering on the awarding of high-demand spectrum, which includes LTE.
"There are a number of viewpoints expressed by ICASA councillors that do not bode well here. One is that the major networks cannot be given new spectrum until they prove they are using existing spectrum effectively; if that truly were a criterion, then the spectrum held by Telkom and Sentech would long ago have been placed under scrutiny.
"And it is a given that mobile network infrastructure is under strain. This view appears to be a broadcast right out of Planet Vested-Interests. At the same time, ironically, there is also a strong view within ICASA and the DOC that new spectrum should be awarded to new players."
Goldstuck says it is "patently obvious" that new players would not have the resources for rapid roll-out out of high-demand spectrum, whereas the incumbents do have those resources. "If the interest of government lay in achieving the greatest good for the greatest many, they would allow the major networks to add LTE on top of their existing networks, and get it to the largest possible number of people as quickly as possible."
He says, however, if the underlying motive is to use spectrum for favour and reward, as well as to placate political and other vested interests, "then we can expect to see the quality of networks continue to deteriorate".
Maleka says ICASA has been ready to award spectrum licences for over a year now, and "we are still awaiting policy directives to proceed with the licensing on the 2.6GHz band.
"The operators are also encouraged to efficiently utilise their licensed spectrum and invest more on rolling out network services in terms of their licence conditions."
Eye off the ball
Dobek Pater, analyst at Africa Analysis, says the re-farming of spectrum for LTE use could "certainly" be having an effect on the networks.
"Operators have only so many skilled resources available and they focus these on what they believe is most important at that time. Re-farming 1 800MHz spectrum is not a simple matter and will require careful planning and frequency plan implementations.
"This will no doubt have an impact on network performance in 2G (900MHz /1 800MHz) and 3G (2 100MHz) portions of the network. It is quite likely that the operators' radio optimisation resources have 'taken their eye off the ball' in their efforts to focus on re-farming and LTE implementation."
Also, says Pater, in re-farming, an operator is taking away some of the available frequencies to use for the provision of a new service. "The existing services need to be delivered with fewer frequencies. This certainly can negatively impact the quality of that existing service."
However, Vodacom says there is no specific link between LTE spectrum re-farming and network quality. Boorman notes, however, that the struggle in getting access to additional spectrum does present a problem.
MTN had not commented on the link between re-farming of spectrum and network quality by the time of publication.