In2IT, Cisco, Westcon-Comstor Southern Africa deliver technology insights at Digital Summit of Tomorrow event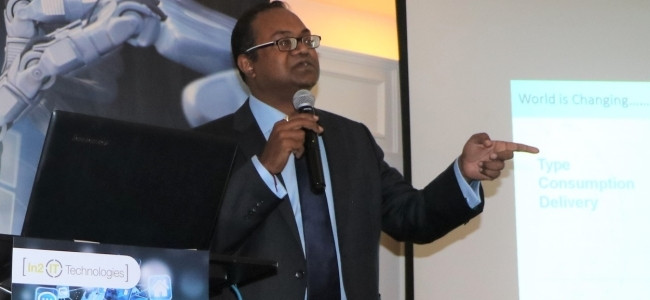 Leading ICT provider, In2IT Technologies, together with global technology leader, Cisco, and value-added distributor, Westcon-Comstor Southern Africa, co-hosted the Digital Summit of Tomorrow customer event at the Beverley Hills Hotel in Umhlanga, KwaZulu-Natal, on 29 August 2017. Over 70 customers attended the event, which offered technology insights, thought leadership and demonstrations.
The event focused on looming changes and developments within the digital space and how customers can better equip themselves by adopting innovative technologies, best practices and new ways of thinking.
In addition, the Deputy Mayor of eThekwini, Fawzia Peer, commented on the event: "The world is fast changing due to science and technology, and our approach to the Fourth Industrial Revolution is premised on the need to ensure shared growth and development, involving all citizens as active participants in the new economic and social milieus."
Saurabh Kumar, CEO at In2IT Technologies, added to the Deputy Mayor's response: "Today, everything is connected. There is increasing pressure from business on IT to connect a vast number of devices, from Internet of things (IOT) to general networking devices, and this can create a strain on existing networks. The event highlighted best practices to reduce the impact of this additional traffic as well as the complexity of networking. The event also demonstrated how the automation of security and threat intelligence provides for a more secure network and reduces the risk that 'connected everything' brings."
Both Kumar and Vishal Barapatre, CTO at In2IT, shared insights at the event, alongside Ian Duvenage, Coastal Director at Westcon-Comstor, and Barry Campbell, Territory Business Manager at Cisco. In2IT discussed the latest technologies in unified communication (UC) and the use of artificial intelligence (AI) in advanced threat detection, while Cisco and Westcon-Comstor leveraged their extensive experience to provide thought leadership around networking and 'connected everything'.
"Smart businesses and smart cities embrace digital transformation; they see digital disruption as a mechanism by which to improve customer service as well as drive innovation," states Duvenage. "If we focus on government service delivery and hone in on using technology to develop smart cities, agencies and departments alike can use technology to reduce costs, improve government operational efficiency, and enhance citizen services. But none of this can be done without digital transformation, which starts with transforming processes, implementing secure architectures to support this, as well as delivering visionary solutions - that work for the customer."
Garsen Naidu, Head of Channel, Cisco Sub-Saharan Africa, adds: "With the birth of machine learning, explosion in artificial intelligence and our increasingly tech-centric culture, cities may look much different than most people expect. As more and more professions become increasingly involved in the smart cities process, they would be wise to begin educating themselves about the emerging technologies companies such as Cisco are developing. Events such as the Digital Summit of Tomorrow provide a platform for education and engagement, and they leapfrog professions into insights they would not ordinarily have access to."
Cisco is the global technology leader, and In2IT excels at designing and integrating solutions which puts this networking technology to best use. Westcon-Comstor, as Cisco's leading South African distributor, delivers future-ready solutions to South Africa. Together, at this event, they gave their customers a glimpse at the possibilities available to them to prepare them for success in a connected world. Customers left with full awareness of the current and future networking landscape, and the knowledge of what they can do to be ready.