Young scientists represent SA at global fair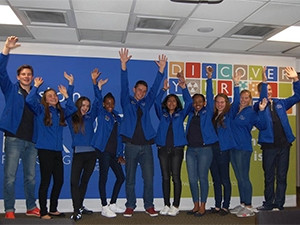 Nine young science students will represent SA at the Intel International Science and Engineering Fair (ISEF) in Los Angeles.
It is said to be one of the world's largest pre-college science fair competitions and scientific research events.
According to Eskom, the nine learners are top achievers who were selected at the 36th annual Eskom Expo for Young Scientists International Science Fair (ISF) in October last year.
One of the qualified projects is by a team of two students, Reinier Scherman and Berno Myburg, from Gauteng, whose project aimed to address forklift manoeuvrability (in storage warehouses) through a modified drive system to increase efficiency.
A prototype drive system was developed that can not only turn on point, which is not possible with conventional forklift drive systems, but also has the capability to change the vehicle's position while maintaining the same orientation, explained the team.
The other scientists include Lawrence John van Staden and Farah Shaik from KwaZulu-Natal, Bianka Reyneke from Free State, Anika Meyer Zamazimba Madi and Jacqueline Janse van Rensburg from Gauteng, and Katinka Wilkinson from the Western Cape.
"To represent South Africa on the world stage is a tremendous honour and privilege, and our nine young scientists are well-deserving of this honour because they were our exceptional achievers last year. Their projects were selected because of how internationally competitive they are, therefore there is no doubt in my mind that they will return home with top honours," said Parthy Chetty, executive director of the Eskom Expo for Young Scientists.
The nine will compete alongside more than 1 700 learners from 70 countries for over $4 million in prizes, which include three grand prizes of $50 000, with the top award winning $75 000. Other prizes include scholarships and high-end laptops.
The Society for Science and the Public will live-stream the Intel ISEF Grand Awards Ceremony on its Facebook page today at 6pm.