CIOs: Predict rather than respond, says Engen's Du Plooy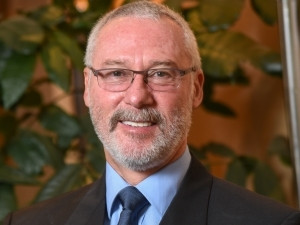 Engen CIO Peter du Plooy, who was named Visionary CIO 2105 last week, says business is becoming more dynamic due to the opportunities introduced by technology.
The Harley Davidson rider enjoys projecting the future. "I enjoy projecting the future and reading multiple views about what the future could look like, and I draw on my knowledge and discussions to formulate strategies that will improve competitive positioning and shape our organisation to prepare for new business models."
Du Plooy predicted the 'market of one' in his MBA thesis 19 years ago, but also recognised the importance of understanding people - the users of technology. His ability to align IT with the business' needs is how Engen Petroleum has been able to reap the rewards of technology from both a profitability and efficiency angle.
"In transforming Engen, we focus on simplicity and reinventing the business model to chase process improvements through enabling technologies that deliver on our strategies."
Du Plooy says CIOs "need to move to predicting and acting rather than sensing and responding".
The annual Visionary CIO award, now in its seventh year, is presented by the Institute of Information Technology Professionals South Africa (IITPSA), in association with ITWeb, the Gordon Institute of Business Science and Gartner Africa.
It recognises "a leader who defines ICT strategy in an organisation and has demonstrated exceptional vision in using technology to transform and grow business".
The winner was announced at the IITPSA President's Awards in Sandton last week. In the winner citation, the judging panel said Du Plooy "defies the notion that CIOs have the toughest jobs out there. He is the epitome of a rock-solid CIO and a visionary not only for his thorough understanding of technology and business, but for his active approach to developing skills and capacity for the sector. Peter empowers his team, bringing them on board through clear communication, authentic interaction, mentoring and coaching."
On receiving the trophy from last year's Visionary CIO, the Financial Services Board's Tshifhiwa Ramuthaga, Du Plooy expressed gratitude to the Engen team. "I would want to thank the institute and those who were involved in the process; those who supported me; and most importantly my organisation, Engen Petroleum, for helping me.
"I certainly look forward to taking this award forward by getting more involved in the ICT industry and making a bigger contribution during 2016."