Connected car revenue to near $50bn by 2022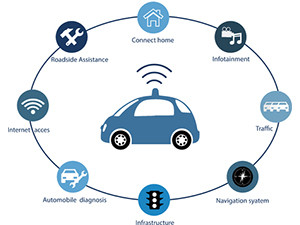 By the year 2022, global consumer connected car revenue will near $5 billion, with half of all vehicles connected.
This is according to a new report from Juniper Research, titled "Consumer Connected Cars: Applications, Telematics & V2V 2017-2022".
Juniper reveals that 50% of consumer vehicles on the road will have at least one connectivity service, such as telematics, V2X (vehicle-to-everything) communications, or connected car commerce services by 2022, while revenue from consumer connected car services is expected to rise from $18.4 billion in 2017 to $49.2 billion in 2022.
Statista's research indicates revenue in SA's connected car market currently sits at $8 million for 2017. The market research firm further expects the local market to show an annual growth rate of 52.1%, resulting in a market volume of $45 million by 2021.
According to the Juniper report, the growth will be driven by increasing industry involvement from original equipment manufacturers and network operators, combined with the development of new V2X services.
A Deloitte Global Automotive Consumer Study found South African consumers are more likely to desire advanced automation technology when choosing cars, compared to consumers in the UK, Germany, China, Mexico and South Korea.
However, Juniper anticipates three regions will be the heaviest users of connected vehicle services: North America, West Europe, and the Far East and China, accounting for 89.5% off global data traffic in 2021.
"The coming years will create new opportunities for those companies that make the shift to digital and capitalise on the tremendous potential of the connected vehicle market," says Heather Ashton, research manager at IDC Manufacturing Insights.
"Automotive OEMs and their ecosystem counterparts face an unprecedented level of disruption in business models, customer expectations and digital transformation," she adds.
Speaking at the pre-IFA 2017 press conference in Lisbon in April, J"urgen Boyny, market research company GFK's global director for consumer electronics, expressed the same view, saying connected cars will be one of the top drivers of the digital market in the coming years.
"It will be a long and winding road to mass adoption of fully autonomous cars, but the modern car is already connected to users' smartphones. This connection will continue to develop," he noted.