SA scientist among world's most influential 100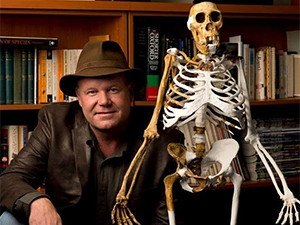 South African scientist Lee Berger has been included in Time magazine's 2016 list of the 100 most influential people in the world.
Berger is a paleoanthropologist and professor at the University of the Witwatersrand (Wits) and is included in the 'Pioneers' category of the magazine's annual list. His inclusion was for his role in the discovery of Homo naledi, a new species of human relative that lived perhaps 2.5 million years ago.
Berger "rocked the fossil world" according to the tribute in the magazine, written by Time editor for science and space Jeffrey Kluger. He did so by leading the team that discovered the fossils at the Cradle of Humankind, outside of Johannesburg.
The fossils were found in the remote, deep underground Dinaledi Chamber of the Rising Star cave in 2013, and the discovery made global news when it was made public in September 2015. Berger and his team believe Homo naledi buried their dead, which shows they were capable of ritualistic behaviour.
"One way scientists know they've had an impact is if they've gotten their peers talking. A better way is getting them arguing," according to Kluger.
This, as Berger's discovery still meets with speculation and criticism from fellow scientists and researchers who have questioned both the age of the fossils and the burial theory.
"What no one doubts is the enormity of the find and that there's a lot to learn from whatever species left it behind," according to Kluger.
"It is an honour to be included in the Time 100 and a tribute to the world-class and influential science being produced on the African continent by African scientists and African institutions such as Wits University," Berger said in statement.
South African-born actress Charlize Theron also featured on this year's Time list as part of the 'Artists' category, for her HIV prevention work in southern Africa, through her foundation, the Charlize Theron Africa Outreach Project.