MS releases IE 10 preview for Windows 7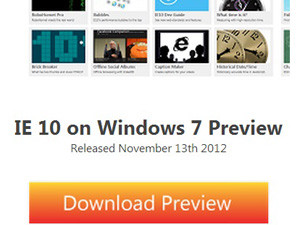 A preview of Internet Explorer (IE) 10 for Windows 7 users is now available for download from Microsoft.
In October, Microsoft's group program manager for IE, Rob Mauceri, promised a preview of the browser for Windows 7 would be available in November. At the time, Mauceri said final availability would follow "as we collect developer and customer feedback".
"IE10 on Windows 7 has the same standards-based platform for developers to target as IE10 on Windows 8. We built an entirely new browser with Windows 8, with more performance and developer capabilities. IE10 brings improved real-world site performance and additional standards support to Windows 7 that Web developers have been asking for," says Mauceri.
Installing the IE10 preview on a Windows 7 machine will replace the user's previous version of IE. Microsoft says: "Internet Explorer 10 is still being tested - information from people using Release Preview will help make the final product even better. If you install the Release Preview, you'll get to enjoy new features including enhanced security and performance, but you also might experience a higher frequency of errors than you would using an earlier version of Internet Explorer."
The Release Preview for Windows 7 has the same basic look and feel as the Windows 8 version, with full-screen browsing, multi-touch support and hardware acceleration. It also comes with the "Do Not Track" privacy feature automatically switched on. The preview can be downloaded here.
While IE has for many years been the most widely used browser in the world, its hold on the market has been slipping. Data from StatCounter shows Google's Chrome overtook Internet Explorer for the first time back in May, and stayed marginally ahead through June, and has grown its lead since. The latest figures show Chrome has about 35% global market share, with IE at 32%, followed by Firefox on 22%.
But there is conflicting data from different Internet tracking services, and NetMarketShare's data, for example, shows IE to still have 54% of the market. However, there is general consensus that there is a growing trend in the browser space of consumers moving away from the default IE browser, which comes standard with Windows PCs.