SA looks to China to enhance innovation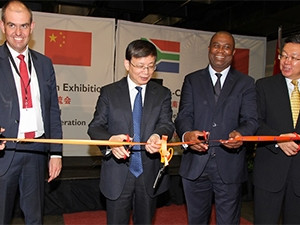 South Africa is seeking to strengthen its position with China and become a preferred partner for research and development (R&D) collaborations.
So says Dr Phil Mjwara, director-general of the Department of Science and Technology (DST).
Mjwara made the comments on day one of the South Africa-China Hi-Tech Exhibition, which is taking place at the Sandton International Convention Centre in Johannesburg.
The three-day exhibition is aimed at creating a platform for South African and Chinese science councils, academic institutions and industry players to exchange information on new technological trends and foster collaborative linkages.
According to Mjwara, SA has a lot to learn from China, particularly in the field of enterprise development, as the country has done well to translate research into high value products.
Through the exhibition, SA also wants to attract foreign direct investment for science programmes, promote projects such as the Square Kilometre Array and create opportunities for human capital development, he adds.
Mjwara explains: "Science today is far removed from the stereotype perception of the mystery and danger and is increasingly about the establishment of new business models and processes. And those who understand and embrace this approach often succeed before others in bringing new ideas, products and services to society."
Industry analysts as well as the DST have been vocal about the importance of science, technology and innovation as catalysts for economic growth and continue to bemoan the lack of investment in these sectors.
Chinese vice-minister for science and technology Hou Jianguo says the exhibition has a huge potential to further economic growth and improve livelihoods in both countries.
Enterprise development is important to innovation, he notes.
According to Jianguo, China is always willing to work with South Africa's young scientists and research institutions.
He adds that deepening the cooperation in human capital development is critical to growing the next generation of scientists.
China is looking forward to having more young people from South Africa visit science institutions in China, concludes Jianguo.