Kenya sets mobile money example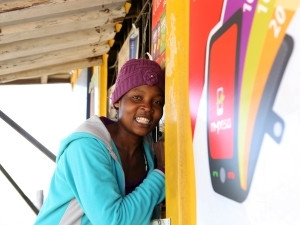 Africa is gearing up to take advantage of a wealth of opportunities presented by mobile money services, according to the latest insights from the International Data Corporation (IDC).
In its latest report, "Mobile Money: Telcos Scramble for Africa", IDC says it expects to see an increase in mobile money subscribers and revenue across the continent as telcos gradually overcome a range of persistent challenges such as tough regulatory environments, poor penetration strategies, limited distribution/agent networks, and poor consumer education.
Leonard Kore, a research analyst for telecoms and media at IDC East Africa, says competing mobile money ecosystems - telco-driven versus bank-driven models - continue to be a bone of contention.
"Countries such as Kenya and Tanzania that have mobile network operator-led mobile money ecosystems have more robust growth than their counterparts with bank-led ecosystems, including Nigeria," says Kore.
He adds the widespread reach of operators' agent networks, their technological superiority, and their ownership of network infrastructure, coupled with their large marketing budgets, combine to make mobile network operators (MNOs) better candidates to lead the development of mobile money ecosystems.
Kenyan example
IDC says Kenya is clearly an outlier in mobile money service adoption globally. Transactions in the country have grown annually since launch in 2007, increasing 24.7% year-on-year in 2014 to total KES 2.4 trillion ($26.17 billion).
"This exceptional growth is expected to continue following government attempts to digitise public-sector procurement and regulatory efforts aimed at introducing cashless payment systems across the country's public transport sector."
While a great deal can be learnt by examining Safaricom's business model in Kenya, as well as dissecting the key reasons mobile money services work so well in the country, Kore is keen to warn telcos and banks in other parts of Africa that replicating Kenya's M-Pesa strategy will not automatically result in universal success across the continent.
SA's largest MNO by customer numbers, Vodacom, learnt this lesson with its mobile money service, M-Pesa - which, to this day, has failed to gain the traction the company had hoped it would.
Re-launching M-Pesa with a revamped model and strategy about 10 months ago, Vodacom made a misstep by adopting a "cut and paste" model on the back of SA's African counterpart's success. Then managing executive of mobile commerce, Herman Singh, said the local M-Pesa journey had taught the operator "SA is not Kenya".
Secret to success
Kore says, for mobile money to succeed in Africa, providers should focus on educating citizens on the benefits of the concept, simplifying the message for the poor/unbanked segments and communicating value-added propositions to the middle class and banked populations.
"Other important key factors include expanding distribution networks, the need to embrace interoperability, establish a proactive and supportive regulatory environment, develop an effective partnership ecosystem, and introduce value-added services like micro credit in more mature markets."
IDC's new mobile money report provides insight into emerging mobile money trends in Africa. The study presents an overview of growing mobile money usage in Africa and looks at the key drivers and challenges shaping the continent's mobile money market.
Kenya, the most successful use case of mobile money services, is assessed and compared with other African states deploying mobile money systems, while the report also explores the evolution of the mobile money ecosystem and provides key strategic guidance for the major players operating within that ecosystem.