Uber tests driverless tech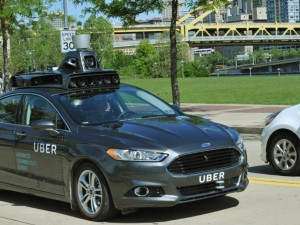 Uber is testing a driverless vehicle on the streets of Pittsburgh, Pennsylvania.
The hybrid Ford Fusion, which has been outfitted with an array of sensors such as radar, laser scanners and high-resolution cameras, is collecting mapping data for the ride-hailing service while verifying the safety of its autonomous driving capabilities, Uber explained in a statement.
"In the future, we believe this technology will mean less congestion, more affordable and accessible transportation, and far fewer lives lost in car accidents," the company said.
It noted that "self-driving cars have the potential to save millions of lives", as 1.3 million people die each year in car accidents, 94% of which involve human error. Uber did not cite the source of these statistics.
Despite these potential benefits, Uber's move towards driverless vehicles could attract criticism for voiding millions of drivers' jobs with machines. The popular mobile app-based ride-hailing business, which is commonly referenced as a real-life definition of digital disruption, has already been widely criticised for jeopardising metered cab industries throughout the world.
While the service is commonly praised for enabling drivers to choose their own working hours and own their own cars, some have come forward to say they are not earning as much as the company leads its users to believe. The leading popularity of Uber in many countries can leave struggling drivers with few viable alternative options, says detractors.
In pursuing driverless options, Uber joins other tech giants such as Google and Apple, as well as a number of long-established automakers such as Mercedes-Benz, BMW and Volkswagen.
Uber has chosen Pittsburgh as the location of its Advanced Technologies Center, and the driverless vehicle test is being run in partnership with the city's Carnegie Mellon University, reports the BBC.