Mahlobo's appointment riles renewables industry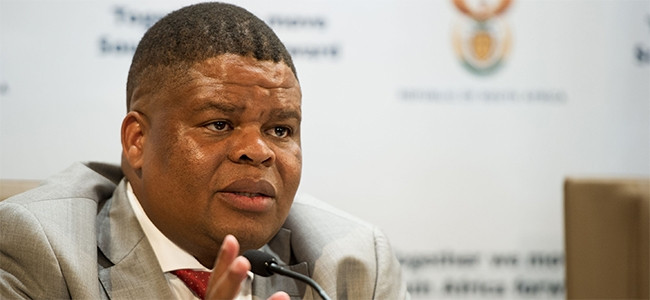 This week's Cabinet reshuffle has riled SA's renewable energy industry.
In a surprise move, this week president Jacob Zuma announced unexpected changes to the national executive that included moving energy minister Mmamoloko Kubayi to head up the Department of Communications. This was after about six months on the job.
Kubayi has been replaced by former state security minister David Mahlobo, who is now energy minister.
Following Mahlobo's appointment to the energy portfolio, some critics were livid, saying this was Zuma's attempt to push through the R1 trillion nuclear deal. Mahlobo is said to be a long-time ally of Zuma.
Huge uncertainty
Renewable energy industry body, the South African Photovoltaic Industry Association (SAPVIA), says the removal of two energy ministers in the space of less than a year creates a huge amount of uncertainty in the industry and will make international investors think twice about investing in renewables in SA.
"The issue is not so much about who is at the head of the energy ministry but whether or not they are able to restore some sort of certainty to an industry that has been plagued by delays and flip-flopping on policy," SAPVIA says.
It points out the delay in signing the outstanding power purchase agreements (PPAs) with renewable energy independent power producers (IPPs) has done considerable damage to SA's renewable energy industry and "we urge minister Mahlobo to proceed with the commitments to sign PPAs by the end of October this year".
Eskom and the IPPs have been at a standstill over the signing of new PPAs for some years now. There have been suspicions that the continuous delays in the signing of new deals was a deliberate ploy by the power utility to sign a nuclear deal which has so far been shrouded in secrecy.
Last month, Kubayi committed to signing the PPAs relating to 26 large-scale renewable energy projects on 28 October.
"The failure to sign these agreements undermines the prioritisation of green energy as outlined in the National Development Plan and threatens to derail the renewable industry's efforts in bringing much-needed foreign investment into the country," SAPVIA adds.
Eleven-day curse
Another industry body, the South African Wind Energy Association (SAWEA), notes that although Mahlobo's appointment is yet another disruption for the energy sector, the association is keeping its focus on the bigger picture.
"The need for South Africans to unite around national interest is higher than ever. This is particularly true for issues of energy. Key decisions are currently being made around our nation's long-term energy sector investments. The need for stability and accountability is particularly high at this point in time," says Brenda Martin, CEO of SAWEA.
She explains that earlier this year, ex-energy minister Kubayi's predecessor, Tina Joemat-Pettersson, set a timeframe for the PPA conclusion, based on clear policy support from the president and the previous minister of finance.
"However, the April Cabinet shuffle, just 11 days before the deadline, resulted in the appointment of a new minister of energy. This led to a further delay, as the newly-appointed minister asked for time to understand the process before picking up where her predecessor had left off. That process took a further five months, in which time the consequences on the renewable energy sector continued to grow."
On 1 September, Martin says, Kubayi set a second deadline for PPA signature, of 28 October. "But now, once again, again just 11 days before this second deadline, another Cabinet reshuffle is announced. South Africa can ill afford the growing job losses, dwindling investor confidence and further delay in rural socio-economic benefit of any further delay."
Nuclear agenda
Commenting on Kubayi's legacy in her brief tenure in the Department of Energy, Richard Halsey, a member of environmental body Project 90 by 2030, says Kubayi was cautious but also did not make any major progressive steps on key energy issues.
He points out that her announcement regarding the renewable energy IPP signing introduced a cap on pricing which effectively changed the rules after the game and did not help solve the problem.
According to Halsey, "it has become more and more obvious in recent years that the nuclear agenda is being pushed by Zuma and those others who stand to benefit if a nuclear deal with Russia goes ahead".
He notes that Mahlobo had already been to Russia in September to push for a R5.3 billion gas deal with Rosgeo.
"His appoint comes just six days after the Department of Environmental Affairs gave authorisation to Eskom for the construction and operation of a nuclear power station at Duynefontein, which is the site of Koeberg. So while the rest of the world is moving away from nuclear, the Zuma-led government is still pushing for it, and Mahlobo seems to be the next piece in the puzzle."
Addressing the 44th Policy Group Meeting of the Generation IV International Forum yesterday in Cape Town, Mahlobo spoke highly of nuclear energy, saying SA's decision to forge ahead with plans to introduce nuclear power are based on ensuring the energy supply going into the future.
"South Africa has made a policy decision to pursue nuclear energy as part of the energy mix and recognises the role of nuclear as a base-load source of energy in ensuring security of supply and climate change mitigation," he said.
Currently, nuclear constitutes about 6% of the South African energy mix - with 1 800-megawatts of electricity supplied to the national grid by Koeberg.