New ways to help project management respond to business need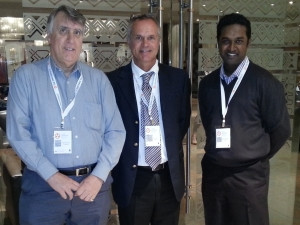 Business is under pressure to react with increasing speed to markets that are rapidly changing and customers who are growing more demanding and discerning. IT departments are gearing to deliver services at equivalent speed to enable market responsiveness - and that means the way that projects are managed is rapidly changing. More importantly, projects are integrating more closely into the businesses they support in order to deliver business benefits even more directly.
This was the message at The PPPM Effect, a seminar hosted by DVT, Eluminary and Snap-Tech, at the Sandton Sun, in October. The event looked at new ways to make process, portfolio and project management more effective and deliver results that take the business forward.
Too often, projects are seen simply as "containers" through which to deliver software, whereas they are much more than this, said Kenneth MacGregor, CTO of Eluminary, one of the keynote speakers at the event. MacGregor argued that business users are not necessarily interested in projects per se - what they want is to gain new capabilities that would help them meet new customer needs or penetrate new markets.
"IT thus needs to extend its focus on projects to include delivering capabilities. Once that is understood, it's possible to see things in a totally different light," said MacGregor. "It can also be liberating, as IT can begin to focus on delivering the 20% of the project that delivers 80% of the capability required, rather than trying to achieve perfection for its own sake."
To achieve this change in focus, MacGregor argued, the concept of "process" needs to be added to conventional project and portfolio management. By doing this, projects cease to be once-off events, and begin to deliver a capability that is itself continually changing in response to market dynamics.
The second keynote speaker, Kevin Naicker of DVT, took up the theme of rapid change and how project teams could respond at the appropriate speed for the business they serve. Naicker also argued that a new paradigm, Agile, is bringing project management into sync with the business and, most crucially of all, the needs of the customer.
"A customer-centric approach is the key to Agile, which defines new roles in project teams - among them accountability to the customer, and someone who is responsible for keeping the team itself functioning without impediments," said Naicker.
The Agile framework can use, for example, the Scrum methodology to bring everyone together at frequent intervals, including stakeholders. Scrum can be extremely effective and its fast pace allows the team to progress rapidly by delivering small, executable requirements that build rapidly in line with customer expectations. The frequency of meetings means that deviations from the customer goals are identified and corrected speedily.
"Agile delivers results quickly, and it puts the customer or stakeholder in the driver's seat," Naicker said.
The final keynote speaker, Guy Eastoe, managing director of Snap-Tech, introduced the concept of benefits realisation as a way to revolutionise all types of projects. He pointed out that we need a new way of looking at projects, one that focuses on benefits and introduces a new realism to planning and prioritising organisational portfolios. The benefits-realisation approach draws all stakeholders into the process in order to deliver the results or benefits the organisation requires.
This new approach, developed by APMG, is based on a framework for managing benefits authored by Steve Jenner. It is applicable to all change initiatives, in both the private and public sectors.
"This effective approach to the management and realisation of benefits has come just at the right time; senior managers and politicians alike are under the spotlight to maximise the investment made by shareholders and citizens and deliver visible benefits to them," says Eastoe. "This guidance shows those in charge of strategy, projects, portfolios and business how to identify and truly deliver benefits, the driver for all change."