T-Systems SA wins two SAP partner awards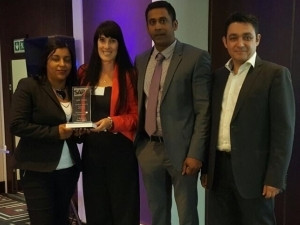 T-Systems South Africa has received two SAP Partner Awards, including the highly-coveted MD's Award, for its role in transforming clients' businesses and accelerating innovation in Africa.
"We're delighted to have picked up two awards," says Shubna Harilal, Head of SAP Sales at T-Systems SA. "It's great recognition for our teams that are applying SAP's powerful technology to unleash digital transformation in our clients' operations."
T-Systems is a long-standing Platinum SAP partner, both locally and at a global level, and Harilal explains that the two companies enjoy a close alignment of their respective visions for the digital future:
"As the software vendor evolves from traditional ERP solutions, to far broader and more meaningful digitisation across the enterprise, we're playing a leading role in shaping this value proposition among the local customer-base."
MD's Award
The Awards' grand finale - the MD's award - recognised T-Systems as the partner that's most compellingly driven new SAP-enabled business models and innovations in the local market.
SAP SA MD Lawrence Kandaswami explains the rationale behind T-Systems' being chosen as the winner of the MD's Award:
"There were a few key pillars I looked at - the strategic impact a partner had on growing market share, industry impact, as well as driving the SAP brand. The one factor that stood out the most was around the innovation agenda: how our partners have helped SAP drive innovation."
From connected sensors and drones at port operations, to its innovative price-per-bed licensing model at hospitals, to the leading-edge work in building connected car platforms, T-Systems has used the SAP HANA platform to create tangible, meaningful innovation.
Top salesperson award
T-Systems' Johann Joubert was named Top Salesperson of the year, for his outstanding efforts in transforming hospital operations in the healthcare sector.
"Johann encapsulates the spirit of our customer centric drive," notes Harilal, "by deeply understanding our clients' needs, and adopting a partnership-based model, the team has achieved some astonishing results."
SAP's Partner managed Cloud (PMC) enables for innovative contracting models for the customer. T-Systems has used this to provide a price-per-bed opex model for Healthcare customers. This allows the hospital to get full value from the Healthcare platform, with minimal upfront technology investment.
This year's double-whammy of awards follows other recent SAP Partner Award successes. These include 2016's Southern Africa Industry Impact Award for its innovative healthcare template solution; and 2015's Finalist nomination in the Global SAP HANA Innovation Awards - for being among the first organisations in the world to implement the in-memory solution (at Transnet Freight Rail).