SKA - a local sci-tech opportunity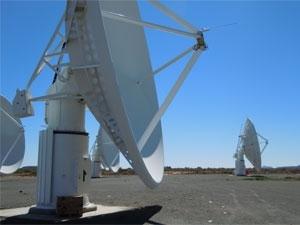 The Square Kilometre Array (SKA) project is more than a major feather in SA's scientific cap.
It could also catalyse significant science, technology and engineering business opportunities, while creating jobs and innovation.
The project has the potential to put Africa firmly on the map as a world big data and analytics hub. This is according to Simon Ratcliffe, technical lead for scientific computing at the SKA office in Cape Town.
The multibillion-rand SKA, to be hosted in SA and Australia, will extend into eight African countries and will be the world's biggest telescope. It is also one of the biggest-ever scientific projects and multinational collaborations in the name of science. The project has already entered its first phase, with radio astronomy scientists and engineers finalising its design. Construction is set to start in 2016 and the telescope should be operationally mature by 2020.
With thousands of linked radio wave receptors in Australia and southern Africa, the SKA radio telescope will constantly scan space and feed the data to astronomers around the world. The amount of data being transmitted will be staggering - the data collected by the SKA in a single day would take nearly two million years to play back on an iPod.
This means the project requires supercomputing power, big data management and analytics capabilities on an unprecedented scale.
One aspect of the project will see ASTRON, the Netherlands Institute for Radio Astronomy and IBM collaborating to research extremely fast, but low-power, exascale computer systems, data transport and storage processes. Streaming analytics will be required to read, store and analyse all the raw data collected each day. The SKA project will also have unprecedented data connectivity needs.
Meeting the advanced technological and engineering needs of this massive project will result in significant local skills development, and will revolutionise science and technology research, and enable innovative new businesses and employment in the science, technology and engineering fields, Ratcliffe says.
"Aside from the benefits to African science, big data capabilities could be our biggest spin-off from the SKA project," says Ratcliffe. "The innovations, skills development and commercial potential emerging as a result of the project are huge. The potential is not just academic - we develop the taxpayer-funded intellectual property to a point where it's ready to become commercialised and benefit the economy. We will increasingly be an incubator of science and technology innovation."
According to Ratcliffe, the human capital development is already taking place as a result of the SKA project, with bursaries and scholarships being granted to allow students to learn the necessary cutting-edge science, technology, maths and engineering skills to support the project. "We have a business development unit looking at making the innovations already developed for the SKA viable as commercial public space entities. Because the SKA is a long-term project over decades, its impact will increase," he says.
"Going forward, there will be a strong drive to leverage the SKA as a spearhead for other programmes - including next-generation, high-performance computing challenges and big data challenges. Throughout Africa, we now have an extraordinary opportunity to become an important global player in big data processing innovation," he adds.
"The SKA project is much more than an exercise in academia," says Sean McLean, sub-Saharan Africa university relations leader for IBM. For McLean, leaders in education, government and business need to be prompted to not only support this, but to take action now to foster a new generation of talent with the technical expertise and disruptive ideas needed to make the most of this big data opportunity.
"If they do, they can not only kick-start the next wave of innovation and growth in Africa's business ecosystem, but can also establish the continent as the world's go-to source of skills and counsel for big data."