Intervid brings drone detection technology to Africa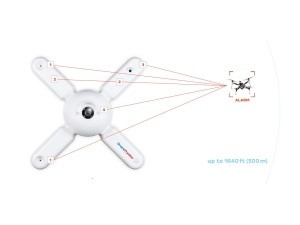 Intervid Africa, South Africa's leading digital security solutions provider, has secured the rights as the South African distributor of Dedrone, a global leader in drone detection and deterrence technology.
With the personal and commercial drone phenomena exploding, security risks associated with drone activity have increased substantially.
Recently, a number of high-profile security incidents involving drones have captured global attention, including a drone landing on the White House lawn, a close call with Angela Merkel, German Chancellor, during a rally in Germany, and closer to home, the recent crash landing of a drone into the Koeberg nuclear facility.
See below links:
http://www.iol.co.za/news/crime-courts/fallout-over-drone-crash-at-koeberg-2055650
http://www.usatoday.com/story/news/2015/10/09/drone-crash-white-house-ellipse-us-park-police-federal-aviation-administration/73641812/
https://www.youtube.com/watch?v=1-5MDqGGon8
The Koeberg drone incident has been a massive wake-up call to the security industry in southern Africa and abroad; wide-ranging institutions from prisons, airports, schools, mines, processing facilities and power plants are all actively seeking solutions to secure their perimeters from the emerging drone threat.
"The Dedrone suite of detection and deterrence products is currently a global leader in this emerging security threat area; the products allow us the ability to offer our clientele something which quickly detects and, in some cases, counters this threat and is relatively easy to install. It's still very early days, but drone detection and deterrence is going to be a big part of the electronic security portfolio of all major institutions that wish to maintain a safe operating environment inside their organisations," said Ryan Lumley, Sales Director for Intervid Africa.
Intervid has been selected by Dedrone as the preferred installer of the units, due to its experience in large-scale corporate access control solutions. "The technology fits perfectly into a perimeter security solution for any sensitive site. Essentially, we see Dedrone drone detection complementing our existing access control, perimeter detection portfolio offering. In the very near future, high priority sites will view drone detection as just another must-have perimeter safety feature."
For more information on drone detection and deterrence, contact Ryan Lumley at Intervid Africa - www.intervid-africa.co.za - 086 001 8105.