Fatal iPhone explosion raises alarm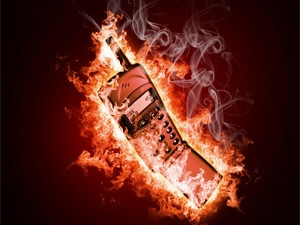 A fatality in China involving an iPhone 5 last week has raised the alarm on the potential danger smartphones can pose as the devices become more powerful and their lithium-ion batteries increase in size to keep up.
According to a report via an official Chinese news agency, Xinhua, 23-year-old Ma Ailun - a former flight attendant - was electrocuted to death on Thursday, when she answered a call on her iPhone 5, while it was charging.
Apple has reportedly declined to comment on details, but has released a statement saying: "We are deeply saddened to learn of this tragic incident and offer our condolences to the Ma family. We will fully investigate and cooperate with authorities in this matter."
A post by Ma's older sister, on Chinese micro-blogging site Sina Weibo, has gone viral. The post describes how Ma collapsed and died after using her charging iPhone 5, and urges users to be careful. She says she hopes to seek justice from Apple, which has found its second-biggest market in China.
China is known for selling Apple products on the grey market
Reuters reports how, in April, Apple apologised to Chinese consumers and altered iPhone warranty policies following two weeks of media condemnation around the company's after-sales service.
Other incidents
While the Ma family's loss is the most recent incident reported, it is not the first.
In February 2009, a Singapore-based daily newspaper - Shin Min Daily News - reported a man died after his cellphone exploded, severing a major artery in his neck.
Chinese authorities did not divulge what make the phone was at the time.
More recently, in March, tech news site Mashable reported how a Nexus S exploded in the middle of the night, causing a fire that could have killed the smartphone's owner.
Samsung's popular Galaxy smartphones have also been reported to spontaneously explode, on more than one occasion.
This year alone has seen at least four incidents. Earlier this month, an Abu Dhabi woman's S4 reportedly caught fire at the USB port where she left it charging overnight. Sarah Shurrab says she woke up in the middle of the night to find her Samsung smartphone in flames. She was able to contain the fire before it could do any serious damage.
This YouTube video details the experience, in May, of Fanny Schlatter, a Swiss teenager whose Samsung S3 handset exploded while in her pocket. The teen suffered second and third degree burns to her thigh.
Also in May, a Reddit user reported that his Galaxy S3 combusted in the middle of the night while charging. The user says the explosion filled his room with smoke and ruined his bed sheets and foam mattress. The S3 handset was destroyed, while the user suffered a small burn to his thumb.
In March, a Korean schoolboy reportedly suffered burn injuries after his Galaxy S2 exploded in his back pants pocket. The local publication that reported the incident says the boy recounted how the handset, containing a spare battery, started to heat up before smoking and exploding in his pocket.
A 55-year-old Korean man reported in February how he suffered second-degree burns to his thigh when his Galaxy Note exploded - also in his pants pocket. A Samsung spokesperson said at the time the explosion was caused by the phone's lithium-ion battery, which can apparently explode if subject to "external pressure or sudden changes in temperature".
Smartphone safety
While mobile phones have a low electrical output of three to five volts, far less than the 36 volts required for a shock, experts say if the phone charger or circuit has a problem - for example a broken wire - it can lead to a 220-volt shock.
Tech community forum Face of IT recommends smartphone users take the following precautions to avoid becoming falling victim to an exploding device:
Avoid buying cheaper battery replacements.
Avoid charging your phones for long periods of time. Once the battery indicator goes green, unplug it.
Avoid exposing your phone to sudden heat or cold.
Always use the prescribed charger to charge your smartphone batteries.
If the battery is removable, always ensure the connectors are dust-free.