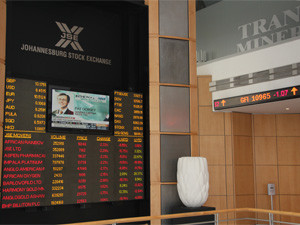 Stock in Net1 UEPS Technologies, which is under investigation by US authorities over its R10 billion social security tender, fell 47.84% yesterday to a new five-year low.
Shares in the company opened at R36.01 and hit an intra-day high of R45 and an intra-day low of R30 before closing at R35. On Tuesday, the day Net1 disclosed that it was under investigation, the stock closed at R67.10.
Net1 received notification at the end of November from the Securities and Exchange Commission (SEC) and the US Department of Justice's Criminal Division (DOJ) about the probe, indicating that its R10 billion deal with the South African Social Security Agency (SASSA) is under investigation.
The DOJ and the Federal Bureau of Investigation are looking into whether the company, its subsidiaries or its staff and agents and any other person affiliated with it, violated US laws by bribing South African government officials to win the tender.
The SEC's enforcement division is also conducting a non-public fact-finding inquiry into Net1. Part of the probe includes whether Net1 violated federal securities laws in connection with its filings with the SEC.
Business as usual
In another statement to shareholders, issued yesterday, Net1 says it recognises that the announcement of these investigations raises questions and concerns about the company and its SASSA contract. It says it continues to handle payments to about 10 million grant recipients and it has no reason to believe the investigation will impair its ability to handle payments.
"As a preliminary matter, the company believes it is important to note that these investigations are investigations and not findings of wrongdoing on the part of any person and that Net1 is fully cooperating with the investigations."
The investigation follows an August ruling by North Gauteng High Court judge Elias Matojane, who declared the contract illegal and invalid, but said it would remain in place so that payments continue. Net1 has appealed the decision to the Supreme Court of Appeals.
The legal wrangle was lodged by failed bidder AllPay, a division of Absa, which alleged SASSA improperly awarded the five-year deal to CPS and that it did not comply with the necessary regulations and laws.
After the High Court ruling, AllPay tried to have the Constitutional Court hear an urgent appeal of the High Court's judgment, which was rejected by the highest court in the land, because it was not in the interest of justice to hear the matter at this stage, says Net1.
In September 2012, AllPay complained to the JSE that Net1's disclosures concerning these matters were "inadequate or inaccurate". The JSE rejected AllPay's claim and its subsequent request that the ruling be reconsidered.
Net1 says it will not comment any further until the investigations have been concluded.