SA wants more Saudi renewable energy investment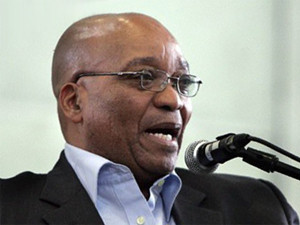 South Africa is looking for more investments in renewable energy from Saudi Arabia.
Following a state visit to the Middle East country, president Jacob Zuma lauded Saudi Arabia's private sector's continued investment in SA's renewable energy sector.
Saudi Arabian private sector companies are already making huge investments in SA's renewable energy drive.
Zuma's visit and comments about renewable energy come after SA recently lit up the R5 billion Bokpoort concentrated solar plant (CSP) in Groblershoop, Northern Cape. The majority of the investment at this solar plant came from a consortium led by ACWA Power, headquartered in Saudi Arabia.
The Bokpoort plant is the first in a series of investments in the power sector that ACWA Power is making in SA. The company expects to commence construction on the 100MW Redstone CSP Project, also in Northern Cape, and awaits the outcome of tender submissions for a 300MW coal-fired plant in Mpumalanga and another 150MW CSP plant in the Northern Cape.
ACWA Power plans to invest more than R35 billion in renewable and conventional energy projects in SA over the next five years, despite the depressed economy that has placed the country at risk of a ratings downgrade.
Although still heavily dependent on fossil fuels, SA has been championing the use of renewable energy sources. Solar, biomass and wind energy systems are being rolled out in the country at a steady pace and feeding clean energy into the strained electrical grid.
Today, renewables are delivering clean energy, jobs, technology, foreign investment, rural development, community benefits, skills and new research.
The 2014 United Nations Environment Programme put SA among the top 10 countries for renewable energy investments.
The Department of Energy says SA has a high level of renewable energy potential and presently has in place a target of 10 000GWh of renewable energy. The department has determined 3 725MW generated from renewable energy sources is required to ensure the continued uninterrupted supply of electricity.
In a press statement issued by the Presidency, Zuma says: "We are very pleased that this state visit will ensure, among other things, continued Saudi private sector investment in our country's renewable energy sector in support of the National Development Plan."
Saudi Arabia and SA held wide-ranging talks that discussed the importance of bilateral co-operation in the atomic and renewable energy sector, including strategic plans to utilise alternative energy.
The president emphasised the importance of creating a platform to enhance business-to-business co-operation to increase South African exports to the Saudi market and attract Saudi investors to SA.
According to the CSIR Annual Report 2014/2015, renewables projects generated 2.2TWh of electricity in 2014, which resulted in huge cost savings.