Nonda Concludes CES 2017 with Three Award Wins
Nonda's ZUS connected car technology recognised at CES.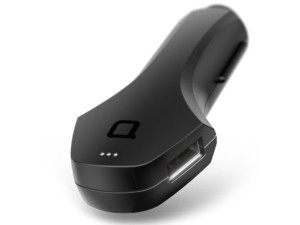 Nonda, the leader in app-enabled automotive accessories, wrapped up a successful first showing at the Consumer Electronics Show in Las Vegas this past week.
Nonda chose CES as the venue to preview its expanded ZUS family of connected car devices, debuting a number of modular and accessible smart technologies, each of which adds the latest convenience and safety updates to virtually every car on the road, at an affordable price point and with little to no installation. By communicating with the driver through a common smart phone app experience, Nonda's unique take on implementing connected car technology provides a compelling alternative to the expensive and rapidly dated embedded systems provided by car manufacturers.
The new products previewed at CES included:
* A Qualcomm QuickCharge version of Nonda's already popular ZUS Smart Car Charger.
* The ZUS Carbon Fibre Cable that is even stronger and more durable than the already impressive ZUS Super Duty Cable already on market.
* The ZUS Smart Tire Sensor that installs in seconds by simply screwing onto a tyre's valve stem in place of the valve stem cap and continually monitors a car's tyre pressures to warn of leaks or underinflation that substantially reduces gas mileage.
* The ZUS Smart Key Finder, offered in a slim profile black case with a rechargeable battery.
* The ZUS Smart Backup Sensor that takes the place of a traditional licence plate frame and provides both an audible and visual alert of proximity to objects when reversing, without any hardwiring needed.
* The ZUS Smart Car Mount that offers hands-free mobile smartphone connectivity, including streaming audio, through your car's existing stereo system.
With these innovative technologies, it should come as no surprise that Nonda came out a multi-award winner at CES.
These included:
* IOT Award for Connected Car Accessory of the Year;
* ShowStoppers LaunchIt Competition Winner; and
* SVIEF Cross Border Innovation Award.
"CES was a big event for us," says Nonda's CEO, Nick Staubach. "We already have hundreds of thousands of units in market being used in all kinds of vehicles all over the world - from luxury cars in urban markets to pickup trucks in rural areas - and our thousands of A-fans help support the continued development and introduction of new features and new devices. CES was for us, as much a recognition of our core user base as it was an opportunity to proudly place a well-earned flag in the ground as the category leader of the consumer connected car. We are extremely proud of what we have accomplished and it motivates us to work even harder in 2017 and beyond."
Details on Nonda's complete family of connected car devices can be viewed at: https://www.nonda.co/pages/media