Digital assistants whisper in-ear at MWC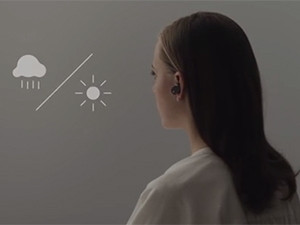 Hardware manufacturers showcase weird and wonderful products at Mobile World Congress (MWC) every year. Some more weird than wonderful.
Here is a selection of the latest crop of MWC-debuting gadgets with features that could be ideal for some, while leaving others mystified.
Rugged smartphone
Construction company Cat announced it had created the world's first smartphone with an integrated thermal camera: the Cat S60. Besides giving the user the ability to see in complete darkness, the thermal camera allows users to detect heat loss, spot moisture and identify over-heating electrical appliances.
The smartphone sports a rugged design and is said to exceed military specifications. It is waterproof to depths of up to 5m for an hour. The S60 display can be viewed in bright sunlight, and the touch-screen can be controlled with wet fingers or while wearing gloves.
In-ear digital assistant
The Xperia Ear was one of the prototype products showcased by Sony this week. The device looks like a traditional hands-free Bluetooth headset, popular for a short while in the 2000s. This time around, Sony hopes to put a digital assistant inside users' ears.
The earpiece will notify users of the time, the latest news, notifications, weather, social media updates and calendar events - as well as allow them to take and make calls. The device responds to voice commands and will perform Web searches, reading out results or directions in-ear.
Virtual roaming
KnowRoaming has launched its Soft SIM software platform which automatically links users' devices to the best network while travelling - ensuring best rates. The company is known for its SIM sticker that detects when users have left their home country and switches to a local carrier - eliminating the need to swop SIMs. The new platform does not require a sticker.
The new update is in collaboration with Alcatel and TCL Communications, which means it will only work on select Alcatel devices. The service will be available in China first, then will expand to other countries.
Full-on VR
Last year, HTC unveiled its virtual reality (VR) system, the HTC Vive - available, at the time, to developers only. This year, the company said it would ship its first consumer systems to market in April at the recommended retail price of $799 (R12 200).
The Vive comes with a VR headset, room sensors and two handheld controllers. This allows for a full VR immersive experience where the user is able to perform actions in the simulated environment.
Portable projector
Japanese technology company ZTE released the Spro Plus, a portable smart projector. The device features an 8.4-inch screen with 2K resolution and a 12 100mAH battery. It runs on Android, which allows users to download applications like Skype for projected video calls.
Technology within the product gives it the ability to project onto any surface in any direction without distorting the image. It uses laser instead of LED to project at 500lm ? the ideal luminescence for viewing in both broad daylight and a dark environment.