Talksure excels yet again!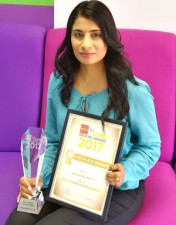 The 2017 South African BPO & Contact Centre Industry Awards saw Talksure walk away with yet another accolade to add to its recent winning streak.
Magdalene Chetty, Learning and Development Executive at Talksure, won the award for Best Contact Centre Trainer Professional on Saturday, 26 August, at Johannesburg's Monte Casino Ballroom. The award category is given to a professional who has provided outstanding support in developing and fulfilling the organisation's training strategies.
"As an organisation that values learning, Talksure has afforded me the opportunity to practice my passion. Without the continued business support, and a driven and motivated learning team, it would have been impossible for me to achieve this accolade. I am truly thankful that, as a team, we have the privilege of making such a positive difference for our people and the business," said Magdalene Chetty, winner of the Best Contact Centre Trainer Professional award.
Business Process Enabling South Africa (BPESA) and Contact Centre Management Group (CCMG) teamed up to host the inaugural awards. With both industry bodies having successfully hosted industry ceremonies, the event seeks to be the only comprehensive professional South African BPO & Contact Centre Industry Awards.
Learning and development play a critical role in the achievement of many of Talksure's strategic objectives. It is for this reason that the organisations provide their employees with the tools required to master skills, collaborate and manage clients. To achieve this, Talksure has an in-house purpose-built training facility providing tailored training to its people.
Sustaining a strong learning culture requires an obligation to personal development of staff, and this forms part-and-parcel of Talksure's values. "Our approach and investment to training across the business ensures we develop and equip our people with the necessary talent and skills to support the requirements of the business. Continuous training and development of our staff underpins the successful long-term development of Talksure," said Jacques de Beer, Managing Director at Talksure.
Talksure has seen tremendous success recently with the organisation winning Best Large Domestic Outsourced Contact Centre (2016), and being awarded one gold and two silver medals at the Europe, Middle East and Africa (EMEA) Contact Centre Awards held in London in July 2017.