Vodacom's new contracts 'ignore data-hungry masses'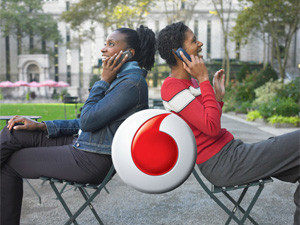 SA's numero uno mobile operator today unveiled new contract packages.
Following the announcement of the new offerings, Cellphone bill-optimisation company Tariffic says Vodacom's contracts are still more expensive in comparison with Telkom's recently-announced FreeMe packages, or Cell C's Pinnacle contracts.
Vodacom has unveiled new price plans across its Red and Smart offers. It says the plans are designed to give customers more value with increased data and voice allocations.
Red plans are Vodacom's flagship set of plans targeted at the high value segment of Vodacom's customer base. The Red packages are available over a 24-month contract.
The telco says customers on Red plans also have access to a range of added value services and lifestyle rewards. These include access to a 24/7 premium service desk support, like-for-like loan phones with a similar operating system when a customer's device is in for repairs and priority queuing at selected Vodacom stores.
The new Smart plans will replace the current suite of integrated contract and integrated top-up plans.
Nyimpini Mabunda, Vodacom's chief officer of consumer business unit, says the phasing out of old plans is in line with the company's price transformation strategy, which has already seen customers pay less for voice and data.
"The simplification of our integrated price plans ensures that we continue to give customers better value offers as their consumption needs change," Mabunda says.
Cellphone bill-optimisation company, Tariffic says while Vodacom's entry-level Smart packages cater to the post-paid masses, its Red packages are targeted at the upper-end of the cellular market.
Although subscriptions for Red packages are more expensive than the Smart packages, they come with significantly more airtime and data, the company adds.
Vodacom has also added some additional benefits to Red subscribers such as free phone loans, 24/7 premium service desk support, and priority queuing at selected Vodacom stores.
Tarrific explains that Vodacom has increased the prices of all its Smart + packages, in return for some additional voice minutes. Data, however, is "the man of the hour", and it seems that Vodacom, for the most part, hasn't done anything to feed the appetite of the data-hungry masses, says Tariffic CEO, Antony Seeff.
"What Vodacom is offering them though is a heavily discounted Red More Data package. Although not cheap, at R749/month (down from R999), this package comes with 150 minutes and a whopping 10GB of data, and is definitely worth considering if you're a heavy data user," Seeff notes.
Vodacom's other Red packages are being offered at the same price as before, but now come with a lot more data (the Red Premium + comes with 10GB rather than 4GB, and the Red VIP+ comes with double the initial 10GB on offer).
The Red Premium+ also now as unlimited calls included. There are two additional packages that have also been added to the Red range - the Red Select+, which costs R999 and comes with 800 minutes and 2GB of data, as well as the Red Classic+, which costs R1 299 and comes with 1 200 minutes and 4GB of data.
According to Tariffic, while the more innovative mobile network operators are offering data-centric packages, such as Telkom's FreeMe contracts, Vodacom is still lagging behind and not bothering to add much flavour to its packages.
"Although high-end users are now being blessed with more inclusive data, the Smart users - with contracts under R589/month - will have to make do with under 1GB of data included in their packages," Seeff notes.
He points out that while cheaper deals can be found across all networks, Vodacom has shown a reluctance to compete when it comes to price, rather touting their allegedly superior network quality as a reason for the higher prices.
"So for South Africans looking to tighten their belts, especially considering the tough economic times we find ourselves in, we recommend MTN's My MTNChoice + packages, Telkom's FreeMe packages, or Cell C's Pinnacle contracts. If, however, you prefer your SIM-card in a deep shade of Red, these new packages may be worth a second look."