Right2Know backs calls for Dlamini to step down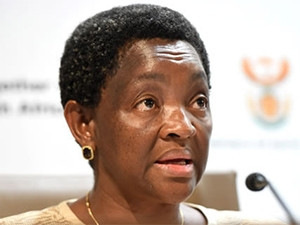 In light of the social grants crisis, advocacy group Right2Know (R2K) is the latest organisation to join the growing calls for the removal of Bathabile Dlamini from her position as social development minister.
While president Jacob Zuma has shown where his allegiances lie in the wake of the potential social services disaster that will affect 17 million beneficiaries, R2K says Dlamini has flouted her responsibilities to the poorest and most vulnerable.
SA's social grant payments are administered and distributed by Cash Paymaster Services (CPS), a division of Net1 UEPS Technologies, after it was awarded a five-year contract in January 2012. However, that contract was declared invalid by the Constitutional Court (ConCourt) in 2014 after it emerged that irregular tendering processes were followed.
The ConCourt suspended the invalidity declaration on the current payments master's contract up until its expiration date, which is at the end of this month. During this time, the South African Social Security Agency (SASSA) was given until 1 April to insource this service in order to eliminate the corruption, mismanagement and profiteering taking place through the payment of grants to beneficiaries.
Despite having two years to find a suitable distributor, Dlamini's department and SASSA are involved in last-minute attempts to appoint a company to pay social grants on 1 April.
The advocacy group notes: "Dlamini has gambled with the livelihoods of 17 million people. Her conduct has shown she cannot be trusted with this responsibility. She must resign or be fired as minister of social development.
"The Right2Know is appalled and angry about the lack of information provided by the minister...The minister faces a crisis of public confidence in whether or not she can ensure grants are paid legally at the end of the month."
Face the music
After failed attempts, Dlamini was finally grilled by members of the Standing Committee on Public Accounts (Scopa) in Parliament yesterday.
The meeting was organised so that Dlamini could account for the looming crisis.
Dlamini was meant to appear before Scopa last week, but she failed to do so. Scopa held the meeting with other Department of Social Development and SASSA officials in the minister's absence.
During yesterday's meeting, she told the committee her department and its agency underestimated the work needed to be done to take over social grant payments.
She insisted social grant payments will be paid on 1 April, even though the department failed to find alternative solutions for SASSA to be able to meet its commitment of paying social grants, which has resulted in it continuing to do business with CPS.
New contract ahead
Last week, CPS, the department and SASSA were locked in negotiations to discuss the terms and conditions of a new contract.
Although neither department nor SASSA confirmed a deal with CPS had been reached, on Monday, Serge Belamant, chairman and CEO of Net1, said his company had locked in a new contract deal with the social security agency.
It has been reported that CPS and SASSA have agreed to the terms of a new two-year contract.
Yesterday, Dlamini told the Scopa committee they negotiated to come up with a new contract and not extend the current invalid CPS contract.
She noted the terms negotiated are favourable to SASSA and the department.
While it has been reported the fee charged each month for each of the recipients will be R25, Dlamini said the rate per beneficiary per month is R16.44, although they have not agreed on an amount, as noted by her.
She added a technical team will meet on Thursday, to give her a report back with regards to the new contract, after which she will meet with the finance minister.
Dlamini pointed out the department is mindful that National Treasury has said the present budget will be used for the work they are doing and it will not receive extra money.