Moto sticks to modular promise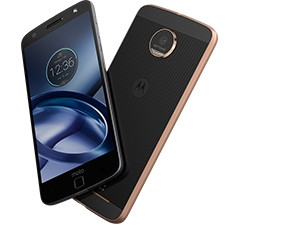 LG and Lenovo both launched modular flagship devices last year, promising a future where a smartphone could become something else, such as a speaker or mirrorless camera, by adding an attachment to it.
Lenovo, which now owns the Motorola brand, has stuck with the idea and introduced new 'mods' at this week's Mobile World Congress, in Barcelona. This will fit with its flagship Moto Z launched last year - and future devices.
Meanwhile, LG backtracked on this decision and unveiled the LG G6 - a unibody smartphone that is not compatible with the add-on accessories sold with the LG G5.
The key difference between the Moto Z and LG G5 was that the G5 had a removable battery and required users to turn the device off and on to use an attachment, while the Moto Z had neither, and used a magnet to seamlessly attach mods.
Last year, the Moto Z was launched with mods which turned the phones into a JBL speaker, battery pack, Hasselblad camera, or projector. Two new mods released this week turn the device into a smart home assistant and gaming console.
Lenovo and Amazon have partnered to create a Moto mod which attaches to the smartphone and creates an Amazon Echo-like speaker. It has Amazon's smart assistant technology Alexa integrated into it, which allows users to ask it to perform tasks through voice-commands.
The company also announced a Gamepad Moto Mod, which transforms a phone into a mobile gaming console by adding physical controls, as well as another battery.