Enel brings Tesla battery to SA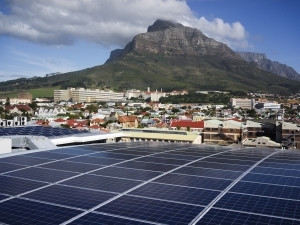 Enel Green Power (EGP) will begin selling its renewable energy kit, which includes a Tesla battery, in SA tomorrow ? as a solution to power outages and rising electricity prices.
The renewable energy unit of Italy's biggest power utility says its kits will help bring down consumers' electricity bills, increase property values and improve South Africans' quality of life as customers will no longer be affected by load-shedding.
"EGP saw the chance to develop the sale of PV [photovoltaic] solar systems and energy solutions to residential and commercial customers, and to take advantage of this opportunity, Enel Energy South Africa (EESA) was created and incorporated in December 2015," an Enel spokeswoman told ITWeb via e-mail.
EESA is now entering the South African retail market with two key PV kits: Enel YouPower Sun, which features PV panels, a Tesla lithium battery and an inverter; and Enel YouPower Battery, which excludes the solar panels.
"It's all controlled by software, called the Energy Management system, which is accessible to the client via tablet, smartphone or PC. The software is smart enough to even indicate Eskom's power cuts, the weather forecast and the energy left in the battery, among other advanced features," according to Enel's spokeswoman.
The company will begin the sale and installation of the kits tomorrow as part of a pilot project for customers in Cape Town, "with the aim being to extend the sale of the kits across SA".
Getting off the grid
The Enel kits include South African-born Elon Musk's Tesla batteries, called Powerwalls, which connect to solar panels on the roof of a house and store enough power during the day to power electrical appliances.
Tesla, best known for its electric cars, sparked global interest in the idea of self-powered homes in 2015 when it said it would start selling its lithium-ion batteries for households this year. The idea raised the prospect that households could one day be able to rely fully on clean energy and become independent of the power grid.
Last year, SA experienced around 100 days of load-shedding, leading to significant drops in manufacturing and mining in particular, as the country's GDP contracted 1.3% in the second quarter of 2015.
The Department of Public Enterprises estimated power cuts cost the economy between R20 billion and R80 billion every month, depending on the level of load-shedding implemented. Consumers are also feeling the pinch as electricity tariffs increased by 9.4% this month.
Enel says SA is serving as the test ground for the renewable energy kits and the company expects the project to expand to other countries where the Enel Group has a presence.
Enel future in SA
Enel identified SA as a good market for the kit as demand for electricity continues to outstrip supply in the country.
"While faltering output and poorly maintained infrastructure have had an adverse effect on the country's economic performance, a range of government initiatives - notably the country's independent power producer bidding programme but also energy-efficiency programmes - aim to strengthen long-term output and reduce the risk of volatility," says Enel.
EGP was last year awarded 1.2GW of sun and wind technology tenders. A total of six power plants are under construction and a further five have been awarded. The company says this amounts to a total investment of approximately R18 billion in SA since its entrance into the country.
It is involved in a number of other local community development projects in SA, "offering an example of how to integrate sustainability into the business' value chain".
The company also plans to create community IT hubs in SA that will be based in shipping containers and be completely solar-powered. The hubs will be fully furnished with desktop computers, scanners and Internet access, and "will be managed by local young people in order to aid employment and development of skills".
Outside of SA, EGP says it is scouting for opportunities in Zambia, Namibia, Ethiopia and Kenya.