IT consumerisation exacerbates e-waste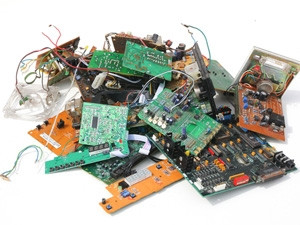 With the consumerisation of IT, the volume of discarded e-products is rising at an alarming rate.
According to Causes International, a report by UNEP titled, "Recycling - from E-Waste to Resources," states that the amount of e-waste being produced - including mobile phones and computers - could rise by as much as 500% over the next decade in some countries such as India.
The report predicts that by 2017, the volume of discarded e-products worldwide is expected to be 33% higher than in 2012 and weigh the equivalent of eight of the Great Pyramids of Egypt.
The upcycling company's Web site notes that dumping electronics in landfills is not ideal and is, in fact, banned in some countries because the items contain substances such as mercury, lead, cadmium, arsenic and brominated flame retardants which can lead to health problems if burned or leeched into the soil.
Ulze van Wyk, MD at the e-Waste Association of SA, notes that e-waste should not be disposed of in landfill to start with because of the hazardous chemicals contained in the dumped devices.
She says SA has been making big steps in becoming aware of e-waste and not to dump it. However, "we still have more steps to take to overcome all the hurdles, but we are way better off than two years ago."
She says most of the retailers have boxes at the entrances or in the parking lots to assist with waste, otherwise consumers can go on to www.ewasa.org and look for their province and see what refurbisher or recycler is in their area.
E-waste profit
"What many consumers don't know is that there is still a lucrative market for their old electronics," says Claire Cobbledick, head of marketing, Gumtree SA. "39.1% of visitors to online classifieds are going there to buy second hand electronics, which means users will easily find a way of turning their old goods into cash."
Cobbledick says that many buyers are happy to take on items that others would consider outdated. "Old tablets, feature phones and laptops are still popular and the site may be the only way individuals can afford those items."
Alternatively, Cobbledick suggests that individuals use "freecycling" if they do not want to sell their items. "Rather than throw your items away or keep them in a drawer, hand them to someone who really needs it. Even if it's in poor condition, someone will be able to refurbish the item and get a good use out of it."
Even old computer monitors and televisions are in high demand. "You might not want your old 386 from the early nineties, but some innovative upcyclists are turning these items into funky fish tanks and the like!" says Cobbledick. "Freecycling or upcycling is more environmentally friendly way to keep these items out of the landfill."