Partnerships and collaboration: the secret to big data innovation done better with open source software and Obsidian Systems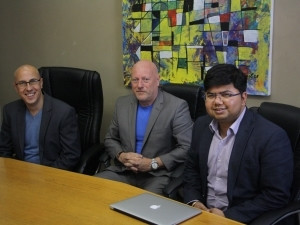 The strength of open source software is the community that helps to develop it and the vendors that adopt it, and that's just as true in the world of high-end enterprise solutions for real-time big data management as it is for traditional data warehousing and business intelligence. That's why Obsidian Systems, South Africa's leading open source software provider, has partnered with global leaders in the field to bring the benefits of live data capture and analytics to local companies with some of the most powerful and cost-effective platforms available.
Obsidian has built a strong reputation for real-time analytics in finance, retail, mining and telecommunications. It's done this by leveraging the capabilities of its key partners in the field, Hortonworks and Talend.
"We've really been able to create wonderful work by utilising the expertise of our partners," says Muggie van Staden, MD of Obsidian Systems.
Engaging with customers in the most effective manner possible is critical for open source companies. Because there's no lock-in to proprietary software or data formats, and data can be transferred out at any stage, the onus is on suppliers to consistently provide the best possible value to their clients.
"It is imperative for us to make our customers successful, working as a strategic partner and helping them quantify and realise business value" explains Abhas, EMEA Lead, Customer Innovation and Strategy at Hortonworks, "Every year is an election year for us, owing to the open source business model, thus we hand hold our customers across their transformation journey" he says.
Hortonworks is a big data platform provider which span out of Yahoo! in 2011. The firm is one of the main contributors to the Apache Hadoop codebase. Abhas says that "by adopting the open source model aka no licensing fees, Hortonworks has been able to accelerate innovation for customers through the collaborative force of the open source community, at a fraction of the cost of proprietary legacy systems"
Brian Perrins is the Channel Sales Manager at Talend, whose solutions integrate databases, data lakes and data streams into a single data management fabric. He says that the adoption of big data solutions is growing fast, and says that a key part of his job is to build local competency through partnerships and direct investment.
"There's lots of expertise here in South Africa," Perrins says, "It's generally a very creative country, and we're seeing a lot of uptake in new big data use cases often the result of a digital strategy. It's definitely the right place at right time for cutting edge technology adoption."
Van Staden says that the potential for big data and real-time analytics is only just beginning to be understood in South Africa, and firms are increasingly open in their approach to adoption.
"What we're seeing is that in the big data space, customers are more willing to talk to each other and share best practices," he says, "That's not something that happened with other technologies."