Liberty's Stash comes to iOS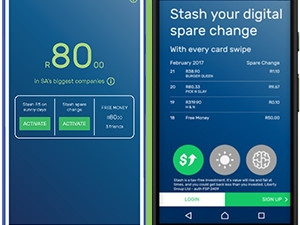 Investment app, Stash, by Liberty has reached 12 000 users in less than five months.
It launched on Android in April, and the company says Apple users will be able to download the app from 15 October.
Stash lets users easily save and invest 'spare change' from everyday purchases.
Every time the user swipes their bank card, the transaction is rounded up to the nearest R10, or more, and the surplus is stored in a tax-free savings account. Liberty says it was created to address the poor savings culture in SA.
Stash now works with all of SA's major banks, with Capitec recently agreeing to come on board.
The average Stash user saves R175 every month, which means approximately R2 100 invested every year per user.
The tax-free savings account invests in SA's top 40 listed companies.
Under a ruling made by the South African government in 2015, R33 000 a year can be saved in these accounts tax-free, and up to R500 000 over a lifetime.
This applies to all tax-free savings accounts, so if users have a separate tax-free account, they will have to note its balance before signing up for Stash, as going over R33 000 could result in fines.
Owners of these accounts are not taxed on the growth of this money, are not penalised when they cash out, and can deposit or withdraw money whenever they like.
"We are very proud that more than 60% of Stashers are under the age of 35. Getting the younger generation to invest is a challenge because young people are so focused on work, family and socialising that they often neglect this essential financial imperative. That's why Stash has kept it simple," says Juan Labuschagne, head of development at Stash.
The company says it takes only 49 seconds to sign up for the service and link a debit, cheque or credit card to the app. It was designed to be easy to set up, without the need to fill out forms or talk to a financial advisor.
Liberty gives users R50 upfront to kick-start their savings, and will add R10 each time the user refers a friend.
"Stash is an SA first. We went back to the drawing board to design an app-based investment that works for those who find investing intimidating. It puts the power of the stock market on your smartphone, and you can access your money whenever you need it," says Labuschagne.
He says more than 3 000 people have already pre-registered for Stash for Apple. This can be done here.