Pavilion parking payment goes digital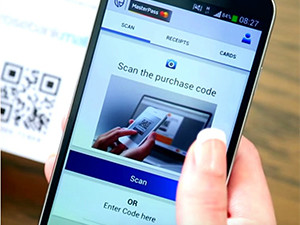 MasterPass has introduced a mall parking payment feature at The Pavilion in Durban, making it a global first for MasterCard's digital wallet service.
"This is the first MasterPass parking payment feature to go live globally. MasterPass is available in 24 countries around the world for online, in-app and retail purchases, but it hasn't been launched or piloted as a solution to pay for parking; it's a first in South Africa," says Mark Elliott, MasterCard's division president in South Africa.
MasterPass says The Pavilion's 1.8 million visitors per month can now make safe digital payments for parking without the hassle of standing in queues at parking payment stations.
"Paying for parking is a pet hate for most consumers," according to Elliott. "We aim to make their experience easier, quicker and more convenient by introducing a solution that doesn't require cash."
Shoppers at The Pavilion can now pay for parking via the MasterPass app by using their phone to scan a QR code printed on their parking ticket. They then enter the parking ticket number, choose a pre-loaded payment card to complete the transaction, and enter their unique ATM or one-time PIN.
"This completes the transaction, and they can proceed to the exit - without having to queue or fumble for cash at the pay station."
Elliott says a smartphone is needed to access the payment method but the download is free from the iOS, Android, Windows or BlackBerry app stores.
"Standard Bank is the first local bank to offer a digital wallet powered by MasterPass, but the service can be used by consumers who bank with any South African bank. MasterPass allows consumers to store all their MasterCard or other branded credit or debit card information, and shipping and billing address details, securely in one place," adds Elliott.
He says the MasterPass technology can be easily rolled out at other shopping malls across South Africa.
"It's premature to say exactly when and where, as testing is still taking place, but there are a few more expected to go live in 2015."
Elliott says the project was first rolled out at the Durban mall because The Pavilion was ready in terms of being able to support the technology needed, and print the QR codes on the mall's parking tickets.