Click and tell
Clickatell's rapid rise from local start-up to multinational communications firm is fast becoming the stuff of tech legend. CEO Pieter de Villiers talks about new opportunities in Africa, securing venture capital and leading a US tech firm.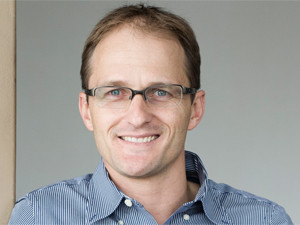 Clickatell CEO Pieter de Villiers has spent 12 years leading the mobile communications company up the ranks of the global technology industry. It's been a rapid ride, but De Villiers, 40, shows no sign of flagging.
"I'm still having fun and there is a lot I want to achieve at Clickatell," he says.
De Villiers flies to SA from Clickatell's California headquarters once a quarter to review operations at the company's Cape Town and Johannesburg offices. The former optometrist from Port Elizabeth has now set his sights on Africa's fast-growing mobile money business. Clickatell aims to leverage its extensive penetration of the African mobile communications market to deliver secure financial transactions alongside its traditional messaging business.
"Africa is leading the world in mobile payments. However, most services up until now have been closed loops, involving alliances between specific banks, service providers and network operators. Once we have interoperability between mobile payment services, where customers can transact across different platforms, then the market is really going to take off," predicts De Villiers.
He believes Clickatell has the inside track in the race to deliver interoperable payment services. The company's mobile message gateway, which enables customers to send large volumes of SMSes from an Internet workstation, spans more than 960 telecommunications networks operating in well over 200 countries. Clickatell boasts it can deliver SMSes to six billion mobile phone users around the world.
The company is talking with several potential mobile money partners and recently opened offices in Nigeria and Kenya to add weight to its push into Africa. "We are not looking to compete with established mobile money operators, but provide an underlying infrastructure that will enable interoperable services," says De Villiers.
The main reason we wanted to move to the US was to secure the funding we needed to grow the business.
With De Villiers at the helm, Clickatell has grown from a cash-strapped start-up operating out of Cape Town to become a leading US-based multinational communications company with annual revenues heading towards R500 million. Clickatell pioneered, and continues to set the pace in, the global mobile messaging business. The company provides communications services to more than 13 000 customers around the world. Among its supporters are some of Silicon Valley's smartest venture capital firms.
Cash-strapped
De Villiers and his brother Casper founded Clickatell with Danie du Toit and Patrick Lawson in 2000. "It was the time of the Internet boom and we wanted to build a dot-com business. We originally planned to capitalise on the proliferation of low-price airlines and set out to build an Internet business that would sell discounted flight tickets to students at short notice. We looked for a mechanism that would enable us to inform customers by SMS about last-minute airfare deals. We couldn't find one. That's when we recognised the potential for a service like Clickatell, which would provide an interface between the Internet and telecommunications services," says De Villiers.
Clickatell's start was far from easy. Initial capital of R180 000, raised by its founders, was quickly consumed by high telecommunications costs. Potential customers often failed to understand the benefits of Clickatell's service, and financial backers were hard to find. "We approached all the usual sources of funding, like banks and government agencies, but it was a waste of time. Eventually, we managed to secure funding from two angel investors, Cape Town businessman Tony Mallam, and Point Break Capital, who injected R1.2 million into the business," recalls De Villiers.
By 2005, Clickatell was performing well and generating healthy profits on revenues of more than R50 million. One of its international rivals then made a bid to take over the company. "Our angel investors were keen to sell but management wasn't. Ethos Private Equity stepped in, bought out the angel investors and enabled us to stave off the takeover bid. We recognised then that we had to expand and grow internationally," De Villiers says.
Ethos and Internet Solutions co-founder Dave Frankel funded Clickatell's acquisition of US firm Multimode in 2006 and helped facilitate the relocation of the firm's headquarters from Cape Town to Redwood City, in California. Complex and often frustrating negotiations with the South African Reserve Bank to obtain approval for the relocation and the death of co-founder Du Toit, from leukaemia, stymied the move for almost 18 months. Fellow co-founder Lawson left the company at this time and later formed mobile security firm Mobiflock.
Venture capital
"The main reason we wanted to move to the US was to secure the funding we needed to grow the business. At that time, US venture capital firms, most of which operate out of Silicon Valley, didn't want to invest in companies outside the States. Investing in technology firms is a risky business and they were wary of adding the further risk of uncertainty about foreign territory," says De Villiers.
Soon after Clickatell moved to the US, prominent venture capital firm Sequoia Capital invested $7 million in the company. Sequoia was an early investor in technology giants Apple, Google, Cisco, Oracle and LinkedIn. Together with fellow venture capital firm DAG Ventures, Sequoia stumped up a further $12 million for Clickatell last year in its second round of financing.
The company has high hopes for its push into Africa. It already generates about half its revenues from the continent. A board member of the Sable Accelerator business network, De Villiers champions South African firms looking to penetrate international markets and promotes investment in his home country. "Developments in South Africa in the past few years have been phenomenal, but the country's investment potential needs to be improved at a macro level," says De Villiers.
Success in new markets is essential if Clickatell is to reach its goal of propelling annual revenues beyond $100 million in the next three years. Clickatell's traditional mobile text message market is maturing, competition is increasing, and shifts in technology could disrupt its core business.
SMS is not going to go away for a long time. Look at Apple's iPhone. The number-one application on iOS is the SMS facility.
De Villiers acknowledges that competition in the mobile messaging business is fierce. He insists, however, that Clickatell is outperforming rivals in its traditional markets while also diversifying into new sectors. He is confident the company can not only withstand changes to the messaging market triggered by the advent of social media and smartphones, but also capitalise on them.
"Clickatell is primarily a mobile enablement company. It helps businesses connect, interact and transact with their customers on mobile devices. It doesn't matter whether messages from these businesses are in text form, e-mails or instant messages to smartphones. We can deliver them. And we can deliver them reliably, efficiently and over a wide geographic footprint. That's our competitive advantage," he says.
Social media
De Villiers argues that while social media platforms such as Facebook and Twitter generate fast-rising volumes of messages to mobile devices, SMS communications will continue to be prevalent for many years. "The SMS is not going to go away for a long time. Look at Apple's iPhone. The number-one application on iOS is the SMS facility," he says.
De Villiers is well settled in California and is keen to steer Clickatell through the next stage of its development. "If I was a serial entrepreneur, I guess I would be somewhere else now. But when we founded Clickatell, our goal was always to build a great long-term business." He is in no hurry to take Clickatell public and points out that the company's venture capital investors have expertise in mergers and acquisitions as well as facilitating initial public offerings (IPOs) on the US stock exchanges.
"An IPO is just a stage in a company's journey. It should never be the goal," he says.
The foresight De Villiers has displayed during Clickatell's rapid growth and expansion has delivered impressive results. His vision of the future is likely to ensure there is a long and prosperous journey ahead.
First published in the December/January 2013 issue of ITWeb Brainstorm magazine.