PC sales point to 'structural' shift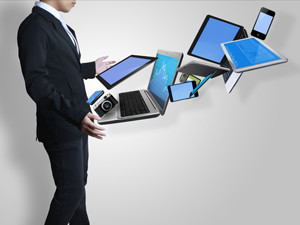 The PC sector is undergoing a structural shift, as sales move away from traditional computing devices and towards mobility, a trend that has been coming for the past few years, but is now showing up in sales numbers.
Both Gartner and IDC say global volumes slumped in the last quarter of 2012. While IDC recently said sales dropped 6.4%, to 89.9 million units, Gartner's release yesterday pegs the drop at 4.9%, to 90.3 million units.
IDC said the fourth quarter of 2012 was the first time in over five years that the PC market experienced a year-on-year decline during the holiday season.
Both IDC and Gartner point to lacklustre Windows 8 sales and the encroachment of tablets into the PC space, while Gartner says the numbers point to something beyond just a weak economy. Locally, the channel is also seeing PC demand being eroded and the industry is being forced to rethink its game plan.
A few months ago, IHS iSuppli Compute Platforms Service, at information and analytics provider IHS, said the total market for 2012 was expected to shrink 1.2%, the biggest decline in a decade. It has yet to release updated numbers.
Shifting habits
"Tablets have dramatically changed the device landscape for PCs, not so much by 'cannibalising' PC sales, but by causing PC users to shift consumption to tablets rather than replacing older PCs," says Gartner principal analyst Mikako Kitagawa.
Kitagawa notes that while a world was once imagined in which individual users would have both a PC and a tablet as personal devices, "we increasingly suspect that most individuals will shift consumption activity to a personal tablet, and perform creative and administrative tasks on a shared PC".
As a result, Gartner thinks buyers will not replace secondary PCs in the household, instead allowing them to age out and shifting consumption to a tablet, says Kitagawa. "This transformation was triggered by the availability of compelling low-cost tablets in 2012, and will continue until the installed base of PCs declines to accommodate tablets as the primary consumption device."
The launch of Microsoft's Windows 8 did not have a significant impact on PC shipments in the fourth quarter. Gartner analysts said some PC vendors offered somewhat lacklustre form factors in their Windows 8 offerings and missed the excitement of touch. New products are coming to market, and this could drive churn within the installed base.
Reuters recently reported that Microsoft has sold 60 million licences and upgrades for Windows 8, but that Windows 8 sales were growing in line with those of Windows 7.
Changing game
AxizWorkgroup executive director Craig Brunsden says the trend towards mobility and tablets is disrupting the market, and consumers are no longer only looking to the traditional channel for computing devices, but also to banks, such as First National Bank.
In addition, the sector is facing a weak economy and a sluggish market, says Brunsden. He adds that ultrabooks are also disrupting the sector as they are lighter, more stable, and last longer, which pushes the refresh rate out.
Brunsden notes that the shift towards virtualisation is leading to consolidation within IT departments and assets are being sweated for longer. He says the industry will have to rethink itself and there is a move towards value instead of a gold rush for volumes.
There is a structural shift towards mobility, which differs to the last step change which happened after the dot-com bubble and was caused because there was a glut in the market after the Y2K frenzy, says Brunsden. He adds that the trend, which has been coming for a few years, can now be seen in sales volumes.
Brunsden notes that this structural change is being caused by mobility, with tablets and smartphones taking precedence over PCs when it comes to upgrades. "The PC is not the centre of your world anymore."
Kitagawa adds: "On the positive side for vendors, the disenfranchised PCs are those with lighter configurations, which mean that we should see an increase in PC average selling prices as users replace machines used for richer applications, rather than for consumption."