SA sees spike in IT job vacancies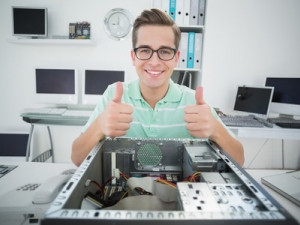 The South African IT sector has seen the most year-on-year growth in the number of advertised roles among all other sectors.
This is according to recruitment firm Robert Walters in its Robert Walters SA Jobs Index, which charts vacancy numbers posted to online platforms.
The firm notes IT job vacancies have had a positive increase of 38% from Q1 2016 to Q1 2017. Besides IT jobs, accounting and finance have seen a rise in the number of vacancies at 7%, it says.
"With companies looking to increase investment in IT infrastructure to grow their competitive advantage, there has been an evident rise in demand for IT professionals," says Lance Maree, associate director for IT recruitment at Robert Walters SA.
While the number of roles has grown, most of these advertised vacancies have been similar and consistent, the recruitment firm says. It adds that many businesses are looking for the same type of IT professionals, such as those with expertise in specific technologies to increase business intelligence capabilities.
Technical and specialist IT skills continue to outstrip supply in 2017, creating a candidate short market, it points out.
"IT professionals with technical and specialist skills sets with experience in systems and languages are in high demand within the South African job market. Developers, programmers and specialised software subject matter experts continue to be highly sought-after," Maree notes.
He points out SA in an exciting place with much innovation, entrepreneurialism and improvement, specifically in the technology space.
However, he says with this, the demand for top talent is increasing faster than skilled candidates are entering the workplace.
"In saying this, companies are still very cost-conscious and require new starters to hit the ground running which is also placing pressure on candidates to already be at an experienced level before they start."
Ernie Hipner, business development director at CareerWeb, says the IT jobs portal has seen approximately a 15% increase in IT job vacancies from last year.
He points out the biggest demand is mostly in the digital space - developers, UX designers and mobile developers. Big data has also spurred demand for data developers and data scientists, as well as IT and cyber security skills, he adds.
Hipner believes the innovation and the need to use data to make better business decisions are some of the reasons behind the spike in IT job adverts.
"Also, more devices and apps are being used so there is a big necessity to keep information secure. There have been a few high-profile breaches in recent times," Hipner says.
Nonetheless, he notes there is not enough skilled talent in the IT security space to keep up with the demand. Also, he adds, a lot of the UX and big data skills are still very new in SA, so it is difficult to source this type of talent.
According to Hipner, top developers can easily earn R80 000 per month while skilled IT security specialists are between R800 000 and over R1 million per annum. On the other side, he says hardware and techies could most likely expect to earn around R12 000 to R15 000 per month.
* Disclosure: CareerWeb is an ITWeb unit.