Barbie beats consumers to smart home dream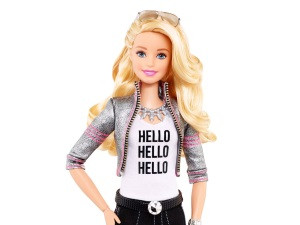 While few consumers live in fully IOT-enabled smart homes, and "hoverboard" users cannot actually fly, Barbie now does both.
Barbie's parent toy company Mattel on Saturday unveiled an IOT-enabled smart home and showed off a hoverboard for the doll at the 2016 International Toy Fair in New York City.
The Hello Barbie Dreamhouse - the latest version of the iconic children's doll's signature home - derives its name from Hello Barbie, Mattel's "interactive," Siri-like IOT-enabled Barbie, which hit shelves in 2015.
Much like Hello Barbie, the Dreamhouse is WiFi-enabled, pairs with an accompanying mobile app, and uses voice recognition software to respond to the user's commands.
Each of the Dreamhouse's rooms has a button built into the floor, which users can press (using their Barbies if they want to) to tell the house they are using that room. The house will accordingly switch on the area's lights or features, such as the fireplace in the living room.
The lights and other electronic features in the home - such as the oven and elevator - will also respond to verbal commands, such as "turn on the bedroom light". Users can also customise the colours of the lights to their liking.
The Dreamhouse also has various different "modes" of play. In "party mode", for example, the house's chandeliers spin and the staircase turns into a slide.
Adding to Barbie's futuristic getup is the Star Light Adventure RC Hoverboard, a small, remote-controlled drone Barbie can stand and fly on.
Hello hackers?
Yet while Mattel's new toys offer flashy fun and early exposure to new technologies, Hello Barbie has been criticised by the cyber-security industry for exposing children to spying and data theft.
In 2015, US security researcher Matt Jakubowski declared Hello Barbie vulnerable to hacking. Jakubowski said the toy allowed him easy access to its system and account information, and direct access to the microphone, essentially allowing cyber criminals to spy on users and their families using the microphone, and to access any information stored on the device or its app.
Jakubowski also said the information stored on the doll could help hackers hijack the WiFi network to which it was connected and thereby gain access to other IOT devices connected to the network.
Unless Hello Barbie's Dreamhouse features security upgrades Mattel has not mentioned, the new toy could infect children and their families with the same vulnerabilities.
Prohibitive price tag
These security threats, however, may only cause alarm to a small group of consumers, as the Hello Barbie Dreamhouse is scheduled to hit shelves before mid-2016 at $299 - about R4 700.
The Hello Barbie doll itself costs $74.99 - about R1 200 - while Barbie's new hoverboard retails for $59.99, or R944.