Amazon unveils video conferencing service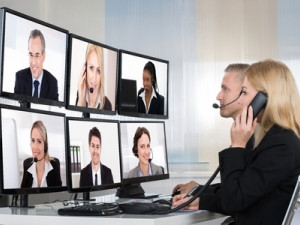 Amazon Web Service (AWS) has introduced a cloud-based video conferencing service that will compete with Skype for Business and Google Hangouts.
According to the company, Amazon Chime supports video conferencing, calls, chat, and the sharing of content. The product runs on Windows and Mac OS X, Android and iOS. Amazon claims the platform will make work conferences more seamless and easier to start.
The video-conferencing tool encrypts all communications and doesn't store chat history, says Amazon.
Targeting corporate IT as much as end users, Chime can be integrated with existing corporate directories, and provides IT administrators with the ability to manage identities and control access across an organisation, it says. To use, customers can simply download the application and get started using the service, says the company.
"It's pretty hard to find people who actually like the technology they use for meetings today. Most meeting applications or services are hard to use, deliver bad audio and video, require constant switching between multiple tools to do everything they want, and are way too expensive," says Gene Farrell, VP enterprise applications at AWS.
"Amazon Chime delivers frustration-free meetings, allowing users to be productive from anywhere. And with no ongoing maintenance or management fees, Amazon Chime is a great choice for companies that are looking for a solution to meetings that their employees will love to use."
The company says Chime is available in three versions - Basic Edition which is free, Plus Edition ($2.50) and Pro Edition ($15) per user.
The service will be rolled out second quarter of 2017 and will soon be available through Amazon's partners Level 3 Communications and Vonage. According to Amazon Web site, Level 3 will offer Amazon Chime as part of its unified communications and collaboration services portfolio. Vonage will include the platform in its business communications plans at no additional cost, it adds.