The big telecoms buy-out
This year has seen more merger and acquisition activity than at any time over the last two decades as local operators seek more mass.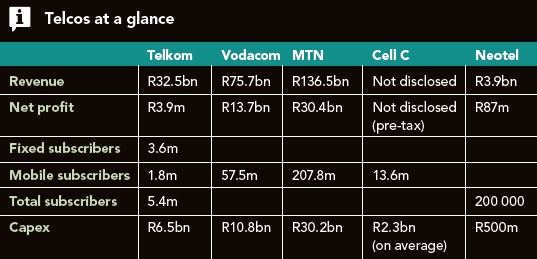 A more aggressive telecoms sector is on the cards as the market goes through its most active period in about two decades, consolidating in anticipation of a converged future as the Internet of things tightens its grip.
In the past year alone, several deals in the telecoms sector have been announced, including Vodacom's R7-billion bid for Neotel, Telkom's R2.6-billion offer for Business Connexion, Internet Solutions' purchase of MWeb's business assets, MTN's purchase of a majority stake in Afrihost - and an unnamed party putting an offer on the table for Blue Label.
Global trends show the heightened consolidation leads to a more competitive market, says independent analyst Paul Booth. He adds that the trend is likely to continue as operators seek to boost revenue by increasing their size.
Internet Solutions is among the latest companies to jump on the consolidation bandwagon, as its parent company - Dimension Data - has bid to buy out MWeb's business offerings. The deal, for an undisclosed amount, will see MWeb's WiFi offering being incorporated into a new company, WirelessCo, which will build and operate an open access carrier-grade WiFi network.
WirelessCo, which will fall under Internet Solutions, will be 51% owned by Dimension Data, with MultiChoice, which is contributing MWeb's assets, holding the balance. WirelessCo is set to take mobile operators head-on and be a game-changer in the way people connect to, and offer, broadband because of its carrier-grade open-access mobile, a concept that has previously not been available in SA.
National ambitions
Derek Wilcocks, CEO of Dimension Data Middle East and Africa, says WirelessCo's WiFi network will be a step forward to a 'WiFi first' service as a viable and cost-effective alternative to traditional data communication in a mobile environment. This will provide more South Africans with affordable internet access, he notes. "This company is committed to making the necessary investments to ensure WiFi is available everywhere and to everyone, driving digital inclusion for all of the country."
Internet Solutions' MD Saki Missaikos says WirelessCo has the potential to fulfil SA's ubiquitous broadband aim at very low cost. He notes mobile as an alternative would be more expensive, because of the inherent costs of setting up the network. "WiFi is probably the best, if not the only, alternative."
Missaikos says IS has been driving WiFi for about the past eight years through services such as AlwaysOn, and wants to 'own' the WiFi space, but cannot go it alone, which is why WirelessCo will be open access. "You have to get it (access) to the masses."
IS' agenda is to try to dominate mobility through WiFi, by rolling out carrier-grade WiFi infrastructure at a low cost, says Missaikos. He notes there is currently no company providing open access as a wholesale play.
Access to the network will be sold on a wholesale basis and IS wants to sign up other internet service providers, retailers and 'everyone' it can, says Missaikos. Currently, IS has about 50% of the hotspot market, through AlwaysOn, and adding in MWeb's WiFi will make WirelessCo the largest player in the space, he comments.
It's never stifled competition. In fact, it's stimulated other consolidation at lower tiers.

Paul Booth, independent analyst
Despite its pending dominance, Missaikos is positive the competition authorities will approve the deal, noting 'it drives exactly what government policy is'. The new company already has four anchor clients: IS, AlwaysOn, MWeb Consumer and MultiChoice, which aims to use the network to stream content, he adds.
Internet Solutions is also buying the rest of MWeb's business units, as well as its network, and will provide a backbone to MWeb Consumer, which is all that will remain of MWeb's offerings.
Internet Solutions' move follows several other buyout bids that are in the process of going through regulatory approval, including Vodacom's R7-billion offer for Neotel so it can get its hands on around 15 000km of fibre and spectrum in the 800MHz, 1.8GHz, and other 3.5GHz ranges.
Going backwards?
However, Siyabonga Madyibi, executive head of regulatory and legal affairs at Internet Solutions, argues some of the deals on the table will reduce competition and 'take us back to a Telkom situation', referring to the landscape pre-liberalisation. He adds Vodacom's bid for Neotel will remove an alternative for internet service providers that wish to use its services. "We know what happened in the past with only Telkom playing in that space."
Vodacom's aim is to use Neotel's fibre to advance its fibre-to-the-x ambitions as it wants to provide fibre connectivity en masse to businesses and homes. Even if Vodacom is successful in speeding up its fibre plans by buying Neotel - leaving the country with one fixed-line operator - it will be quite a while before Vodacom takes away any sizeable chunk of business from Telkom, especially in the fixed-line enterprise space.
Vodacom CEO Shameel Joosub has argued that combining the entities will create a stronger fixed-line alternative - or second national operator - to Telkom across all platforms: fixed, mobile and converged. He says Neotel would do a much better job as SA's second national operator if it were better resourced.
Neotel CEO Sunil Joshi has said consolidation could help smaller players that don't have the scale required to compete on a national level. "Competition is effective in a balanced market defined by a level playing field, rather than a number of smaller players with limited market access."
The operator has, so far, spent more than R5 billion on its network, at a rate of about R500 million a year. By comparison, Vodacom is pumping about 10 times that annual rate into its local infrastructure, as it upgrades its radio access network, rolls out fibre and moves to long-term evolution.
Using the overlay potential of both fibre networks, Vodacom could push fibre to businesses and housing estates, making on-demand services a possibility, says Joosub. Telkom has the biggest fibre footprint in SA, with 147 000km, or 80% of all fibre in the ground. Neotel has around 15 000km of fibre, and Vodacom 6 500km.
The enterprise pie
The deal is currently at the Competition Commission and the Independent Communications Authority of SA for approval, and has already raised opposition, with the Wireless Access Providers' Association arguing it will stifle competition and lead to job cuts.
Africa Analysis analyst Dobek Pater has noted that although "Vodacom would be a significant fixed-line operator", it would be a long time before it could try to displace Telkom in the sector. He notes the market is growing at between four and five percent a year, and other companies - such as cellular providers and Internet service providers - also want a slice of the enterprise pie.
In addition, before consumers take up fibre offerings, services must be readily available, and the price needs to drop to the point where installation costs between R3 000 and R5 000, says Pater. This will take a few years, although services to gated communities will happen faster, he adds.
Driving revenue
Telkom also wants to boost its top line with its R2.6-billion offer for Business Connexion (BCX), which is its second attempt at buying the outsourcing company after it initially approached the company eight years ago, putting a R2.4-billion offer on the table. That deal was spurned by the Competition Tribunal because of concerns over how it would affect downstream competition.
The second time around, both companies feel more confident because consolidation has been taking place globally - such as when NTT bought out Dimension Data in a R24.2-billion deal four years ago - and the landscape has changed.
Should the deal go through, BCX will remain as a standalone and separately branded entity within Telkom, although the telco's IT arm - Cybernest - will be reverse-spun into it, deputy CEO Vanessa Olver has said, noting the company will be ring-fenced for five years.
Adding BCX to Telkom will enable the telco to realise its vision of digital homes and offices, while BCX will benefit through the addition of connectivity to its portfolio, as well as access to more datacentres. Telkom will also bolster BCX's African ambitions.
Competition is effective in a balanced market defined by a level playing field, rather than a number of smaller players with limited market access.

Sunil Joshi, Neotel
Meanwhile, MTN has bought a majority stake in Afrihost as it wants to add scale to MTN SA's online ICT service offering, which is focused on the consumer and small and medium enterprise (SME) market.
"MTN South Africa expects to leverage off Afrihost's strong customer service, value proposition and agility, thereby boosting MTN South Africa's presence in the SME, corporate/consumer and connected home segments," it said in a statement.
Booth notes the driver behind the consolidation, which has left the industry in a state of flux, is the need for mass that will drive economies of scale, allowing operators to be more aggressive and flexible. He anticipates this market stimulation will lead to more competition, as has happened globally. "It's never stifled competition. In fact, it's stimulated other consolidation at lower tiers."
The level of activity, which Booth has not seen for between 15 and 20 years, should ultimately benefit end-users through better pricing and more quality connectivity and communication, he says. Booth notes this will broaden digital inclusion and should lead to job creation, which he hopes will negate the job cuts currently happening in the sector at MTN and Telkom.
Ovum analyst Richard Hurst adds, in the current competitive environment, players are finding it hard to carve out meaningful market share, so they must consolidate. In time, there will be more consolidation and the question is 'which players will be left on the dance floor', he adds.
Technological advances are also stimulating consolidation as the environment is moving to the Internet of things so fast, companies do not have time to build new competencies, says Hurst.
First published in the November 2014 issue of ITWeb Brainstorm magazine.