ITWeb journos scoop excellence in ICT journalism award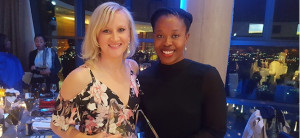 ITWeb journalists Simnikiwe Mzekandaba and Paula Gilbert were named joint winners of the excellence in ICT journalism award at the MTN Women in ICT - Partnership for Change Awards.
The two ITWeb journos were shortlisted alongside Bloomberg's Loni Prinsloo. Last year, the award was won by Business Day's Thabiso Machiko.
This is the second year MTN, in partnership with Kagiso Media's Jacaranda FM and East Coast Radio, and ITWeb's Brainstorm, hosted the awards.
This initiative seeks to accelerate women's participation in the ICT sector by celebrating and rewarding female professionals who have made a significant contribution to the growth and development of the sector.
It also aims to enhance the industry's employer value proposition by attracting and encouraging girls and young females to consider a profession in the industry.
SA is one of the few countries in the world that dedicates a whole month to celebrate and honour women, but this needs to be extended beyond 31 August every year, said Rob Shuter, group CEO of MTN, at the ceremony for the MTN Women in ICT - Partnership for Change Awards, in Sandton, last night.
Shuter said ICT was one of the least transformed sectors in the South African economy and the awards are a reminder of the instrumental role women play. "We need to create conditions where women grow to become a critical mass that will drive the agenda of an ICT sector with heart."
Mzekandaba, who has an honour's degree in journalism from Rhodes University, has been working as a journalist in the ICT industry since 2012. Her love for telling African stories and showcasing the potential of ICT on the continent attracted her to this sector.
She reports on tech initiatives, policies and digital transformation strategies within the public sector. She also covers a range of business news stories for ITWeb.
"It's such an honour to receive this prestigious award. I'm extremely humbled. It feels great to be a joint winner with my colleague, Paula Gilbert. I'd also like to extend my heartfelt congratulations to the other winners and nominees. A big thank you to MTN and Kagiso Media for establishing a platform that recognises and celebrates women in the ICT space," said Mzekandaba.
Gilbert covers telecoms and business, as well as new innovations in finance, mobile and start-ups. She previously worked as a producer and reporter for business television channels Bloomberg TV Africa and CNBC Africa, before moving into the online world at ITWeb.
She began her career in radio, working as a reporter for Cape Town-based radio news agency NewsFlash. She has an honour's degree in journalism from Rhodes University, and recently graduated from the Bloomberg Media Initiative Africa financial journalism training programme, underwritten by Rhodes University and the Gordon Institute of Business Science.
"I'm truly honoured to be recognised for this award, especially when there are so many of my peers doing such amazing work in the ICT sector. It's even more special to share it with my friend and colleague Simnikiwe," Gilbert said.
The awards are segmented into several categories, including the innovator recognition award, SME recognition award, excellence in ICT journalism award and community builder recognition award.
The leadership recognition award - presented to a senior female executive in the ICT sector - went to Carol Thomas, CIO of the Civil Aviation Authority.
The SME recognition award recognises a woman for leading a wholly owned, woman-run enterprise making inroads in the ICT sector. It was won by Matau Ramapuputla, director of operations and strategic development at Moepi Publishing.
Rene Pearson, technical director of Aurecon, won the innovator recognition award.
The MTN SA Chief HR Officer CEO's Award, for an MTN employee, went to Fatima Mayet, a senior manager of infrastructure operations.
The minister of communications award, which honours a female ICT professional whose work has helped to bridge the digital divide, went to Charmaine Nouvet, public policy director Africa at Cisco Systems.
Martine Schaffer, CEO of the Click Foundation, scooped the community builder recognition award, and the lifetime achiever recognition award was won by Dr Ricky Swanepoel, chief technologist, engineering at Eskom.