Dimension Data to help mountain bikers up the hill
Despite remote location, WiFi and live feeds will keep spirits up.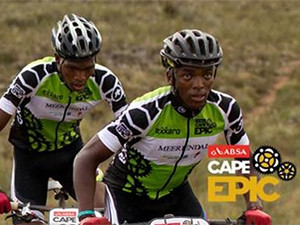 Imagine that you're an extreme athlete.
You and your cycling mate have been training for the better part of a year for a gruelling eight-day mountain bike race, across the peaks of the Western Cape. It's known in the cycling world as the "Tour de France of mountain biking". It is the Absa Cape Epic.
To qualify for a 'finish', both of you have to complete the race, but the route changes every year. What is guaranteed each year is a challenging traverse of the area's iconic fynbos valleys, majestic mountains, deep ravines, indigenous forests, spectacular coastlines and manicured vineyards. Pretty scenery, but will your legs last? Will your bike last? Will you and your partner both make it?
The terrain is as varied as it is harsh - dusty and demanding gravel roads, strenuous rocky climbs, thrilling technical descents, refreshing river crossings and fast forest single tracks. Although you sleep in a new scenic town every night, your days are filled with huge physical challenges and pain, and you start wondering about being able to face it all again the next morning.
You're up against leading aspiring amateur and professional mountain bikers from around the world, but actually, you know in your heart that you're up against yourself. You're proving to yourself that you can handle the roughly 652km of unspoilt scenery and 15 000m of accumulated climbing, over some of the most magnificent mountain passes in South Africa. And that you can do it alongside your team mate. It is testing your grit, your loyalty, your stamina, your very essence - but you're managing.
And then you come to the highest climb. Your legs rebel against the extra effort. Dust is swirling around your ears and caking into mud against your sweaty cheeks. A pebble shoots up from under your front wheel, and it feels like the weight of the world is hurtling towards you, caught up in that tiny little piece of brown that has just hit you on the nose. It is the final insult added to injury and you're ready to give up.
But then you hear someone say your name. It's your mother, your child, your friends, telling you that you can do it, that they're proud of you, that they are waiting for you. So you choose to make that climb. You might collapse afterwards, but You. Are. Going. To. Do. This.
And you do. But there's a part of you that wonders: was it really your mom's voice?
When you call her that evening from the race village, you know it wasn't a hallucination - it was a kindness made possible by the technology Dimension Data is providing on the highest mountaintop in this year's race.
Last year, Dimension Data enabled the live reading of messages of support to the riders, and projected still images of their loved ones on a video wall. These images brought smiles and tears to racers' faces, and Cape Epic race founder Kevin Vermaak has described the video wall as "a game changer for the event".
This year the company has taken it one step further with a platform where friends, family and fans can record video messages that will be played to the riders as they ride past the Dimension Data hotspot on that tough, high mountain.
Back in the race villages, Dimension Data will enable Internet connectivity. All the riders, crew, media and sponsors will have free WiFi access throughout the event, enabling them to stay in touch with their families and loved ones. The media will take the race to millions of cycling enthusiasts around the world by uploading images and videos from the race. The connectivity provided will enable the medical facilities to access medical records for faster treatment.
And yes, Dimension Data is providing 100% backup capability at the race, to ensure 24/7 reliable uptime for over 45 000 spectators.
Absa Cape Epic CEO Lynn Naude says, "The Absa Cape Epic is widely regarded as the world's premier international mountain bike stage race and we are delighted to have Dimension Data at the race as they are a global technology giant with proven capabilities and reliable technology solutions. The race runs along gruelling terrain, and the ability to provide robust connectivity and exploring the use of data analytics brings a new dimension to the race that has the ability to transform the competitive world of mountain biking."
That rough terrain? Seems like the Dimension Data team has it covered. No imagining.
Post your messages to riders in the Absa Cape Epic 2016 onwww.epicsupport.co.za