Nokia brings the 3310 back to life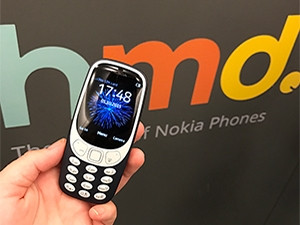 HMD Global, the Finnish company that owns the rights to use Nokia's brand on mobile phones, has launched a series of mid- and entry-level mobile phones, most notably a reinvention of the 3310.
The announcement was made at Mobile World Congress, in Barcelona.
The iconic cellphone of the early 2000s was known for its durability and long battery life. HMD claims this reinvention will last for 22 hours of talk time and months on standby. New to the 3310 is a colour screen, camera and microSD card slot.
Fans will be happy to know the company has kept Snake, a game synonymous with the old phone, on the new device. The game is also now available for anyone to play in Facebook Messenger.
The device comes in four colours: the original dark blue, matte grey, yellow and red. It is aimed at people in emerging markets, children and adults who want to take a "digital detox".
The original device was one of the best-selling mobile phones, selling 126 million units when it was launched in 2000. It was known for its durability and long battery life.
The Nokia 3310 will retail at an average global retail price of EUR49 (R670).
Other than the 3310, three other mid-range smartphones were also unveiled: the Nokia 6, Nokia 5 and Nokia 3. All are priced under EUR229 (R3 120).
Juho Sarvikas, chief product officer of HMD Global, says: "We believe everyone deserves access to the premium quality and attention to detail that is usually reserved only for flagship devices. With our new range of Nokia smartphones, we aim to democratise technology and bring this experience to everyone."
Earlier this year, the company unveiled the Nokia 6 targeted at Chinese users. It featured a full HD, 5.5-inch display, Snapdragon 430, 4GB of RAM, and 16MP primary camera. Nokia says this device will now be available globally and retail for EUR229 (R3 120). There will be special edition model which will come in black and feature slightly higher specs for EUR299 (R4 000).
The 5.2-inch Nokia 5 will retail for EUR189 (R2 500) and the 5-inch Nokia 3 will cost EUR139 (R1 900). All the new Nokia smartphones will feature pure Android and Google Assistant.
The company says all devices will launch globally in the second quarter of this year.